GST Registration Certificate

1. How to get GST Registration Certificate?
2. Provisions related to issue of GST Registration Certificate
3. GST Registration certificate : Special Cases
4. Transferability of GST Registration Certificate
5. How to download GST Registration Certificate
6. Information available in the GST Registration Certificate copy
1. How to get GST Registration Certificate?
The registration process for obtaining GST Registration certificate can be easily understood from the three step process outlined below: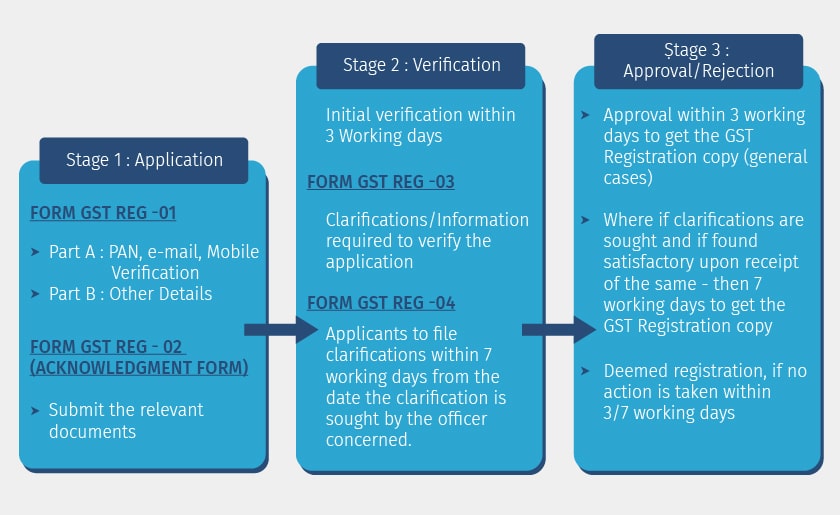 The above is applicable to inter-State suppliers, voluntary registrations, casual taxable persons and persons liable to reverse charge. The GST Registration Certificate is then issued in Form GST REG-06.
2. Provisions related to issue of GST Registration Certificate
Subject to the provisions of the ACT, where the application for grant of registration has been approved, a GST Registration certificate in FORM GST REG-06 showing the principal place of business and additional place or places of business shall be made available to the applicant on the common portal
Goods and Services Tax Identification Number shall be assigned subject to the following characters, namely:-

two characters for the State code.
ten characters for the Permanent Account Number or the Tax Deduction and Collection Account Number
two characters for the entity code; and
one check-sum character

The registration shall be effective from the date on which the person becomes liable to registration where the application for registration has been submitted within period of thirty days from such date
Where an application for registration has been submitted by the applicant after the expiry of thirty days from the date of his becoming liable to registration, the effective date of registration shall be the date of the grant of registration
Every GST Registration certificate shall be duly signed or verified through electronic verification code by the proper officer under the Act
Where the registration has been granted, the applicant shall be communicated the registration number, and the GST Registration certificate within a period of three days
3. GST Registration Certificate : Special Cases
First Category Persons: The GST Registration certificate issued to a "casual taxable person" or a "non-resident taxable person" shall be valid for a period specified in the application for registration or ninety days from the effective date of registration, whichever is earlier, which is further extendable by proper officer for further period of maximum 90 days at the request of taxable person.
Second Category Persons : Registrants having multiple business verticals within a state or union territory are required to make separate registration for each of his business verticals and shall be granted separate GST registration certificate in respect of each of the verticals subject to the following conditions, namely:-
Such person has more than one business vertical
The business vertical of a taxable person shall not be granted registration to pay tax by way of composition when any of its other business verticals is already paying tax under normal GST rates
All separately registered business verticals of such person shall pay tax under the Act on supply of goods or services or both made to another registered business vertical of such person and issue a tax invoice for such supply.
4. Transferability of GST Registration Certificate
The situation arise in case of transfer of business owing to succession or otherwise
To another person as a going concern
The transferee, or the successor, as the case may be, shall be liable to be registered with effect from the date of such transfer or succession by making an fresh application for registration
And in case of transfer as result of amalgamation or de-merger of two or more companies by an order of a High Court, the transferee shall be liable to be registered with effect from the date on which the Registrar of Companies issues a certificate of incorporation giving effect to such order of the High Court
5. How to download GST Registration Certificate
The GST Registration certificate download could be done by visiting the GST Portal at www.gst.gov.in by following these simple steps listed below:

6. Information available in the GST Registration Certificate copy