What is e-invoicing?
Electronic invoicing or e-invoicing in India is a process through which B2B invoices are digitally uploaded to a portal where authentication occurs by the GSTN or the Goods and Services Tax Network. For every e-invoice generated, an IRN or Invoice Reference Number is generated along with a unique QR code. The reason behind the introduction of e-invoicing is to ensure a common format is used across all Indian businesses across different industries so that interoperability becomes simpler. It also ensures compliance from all businesses.
 First, e-invoice was introduced and applicable to businesses with a turnover of Rs. 500 crores or more from 1st October 2020. Second, e-invoicing was introduced to businesses with a turnover of Rs. 100 crores or more from 1st January 2021. In the third phase, e-invoicing was introduced to businesses with a turnover of Rs. 50 crores and more from 1st April 2021. Currently, it is applicable for businesses with a turnover exceeding ₹10 crores from 1st October,2022. 
From 1st August 2023, e-invoicing will be applicable for businesses with a turnover exceeding 5 crores. 
7 benefits of e-invoicing
The post-pandemic business world is different from what it was pre-pandemic. With a higher adoption of digital methods, e-invoicing is proving to be highly beneficial for everyone involved. The benefits of e-invoicing are as follows.
Saves time


e-Invoicing saves time which is a major benefit for all businesses. e-Invoicing is a completely digital process and it takes only some minutes to generate an e-invoice. Earlier, traditional invoices required a lot of time to generate and upload the invoice details to the government portal for return filing purposes. e-Invoicing has reduced the time required to process, track, send, and approve invoices. It has thereby improved productivity because employees can spend their time focusing on other aspects of the business that require attention. With e-invoicing, payments are made at a faster rate and information aggregation can be done without any problems.

Higher accuracy


Better accuracy and reduction of human errors are some of the benefits of e-invoicing. As you are not required to enter any data manually, there is little room for error. The information is taken from the e-invoices directly and as the billing systems also maintain the information, it further ensures no errors are made during e-invoicing. This will allow for better transparency which is another benefit due to the high accuracy of e-invoicing. The communication between buyers and vendors will also be better and time will be saved in the process as a result because of no errors in the e-invoices.

Cost-effective


e-Invoicing is more cost-effective for businesses when compared to the traditional form of invoicing and reporting. Everything takes place digitally which allows for higher cost-saving for every business. This is also beneficial from an energy point of view as e-invoicing is energy-efficient compared to the paper invoicing process.

Ease of financial operation


Ease of financial operation is one of the benefits of e-invoicing. Prior to the introduction of e-invoicing, the financial operation wasn't as simple or straightforward as it has become now specifically for MSMEs. As these businesses often have a higher workload and they need to balance multiple business components, e-invoicing gives relief as it ensures the admin work doesn't take as much time. Traditional invoicing required a lot of work and effort but e-invoicing isn't as complicated. A good software solution such as TallyPrime has made it easier for businesses to generate e-invoices in minutes.

Data security


e-Invoicing ensures data security which is one of the main reasons why it is a boon to businesses. Earlier, invoices were not secure and there was a higher chance of tax leakage as well as fraud taking place. Some businesses were involved in malpractices whereby they used fake invoices. Thanks to the introduction of e-invoicing, the probability of fraud has decreased drastically because there is no way that a fake invoice can be generated and submitted. All invoices that are electronically generated are authenticated which ensures data security and credibility of those invoices.

Increases productivity


e-Invoicing can enhance productivity in MSMEs. Invoicing used to be a time-consuming and tedious task that required hours of time and attention. Additionally, if an error was found or if there was a discrepancy due to human error, the problem had to be rectified and the invoice had to be printed once again. With the introduction of e-invoicing, there is no need for such effort because e-invoicing takes less time and it allows employees to focus on other things. They now have more time at hand which will allow them to spend it on more productive ventures.

Tracking


e-Invoicing is beneficial for the post-pandemic business world because it makes tracking much simpler and convenient. It also gives you more control because all the details entered in the e-invoice are automatically saved and you get access to it all whenever the need arises. E-invoicing makes it efficient for businesses to understand whether their business is going in the direction they want it to go on. With the help of good e-invoicing software such as TallyPrime, you know in detail whether your business is doing well or not.
Benefits of e-invoicing for MSMEs
One of the main reasons why the government introduced e-invoicing is to curb tax evasion and reduce fake invoicing. Below are some of the most crucial benefits which MSMEs will have once e-invoicing mechanism takes the forefront:
Seamless account reconciliation
E-invoicing can help bridge the gap in data reconciliation to reduce mismatch errors and data entry errors. It will also be possible to track invoices prepared by the supplier on a real-time basis, which reduces audits by the tax authorities since the required data will be available at the transactional level. The main aim of the tax department is to enable the pre-population of GST returns, which will reduce reconciliation-related problems. Once e-invoicing has been implemented, the data in the invoices can be pre-populated into the relevant tables of the tax returns without the need for fresh data entry.
Faster availability of genuine input tax credit
Manual calculations while filing GST returns often lead to errors with respect to under or over-claiming of input tax credits. A business is entitled to this amount for the tax that is already paid on the product. Any differences in the claiming of ITC can result in huge losses for a business and would also cost the business owner extra to fix the errors. Since details are available in GSTR-2 on real time basis, with e-invoicing, buyer's ITC eligibility is confirmed
Reduced compliance burden
Since systems are integrated with one another, information flows to GSTN system and e-way bill system, which will ultimately reduce compliance. On continuous upload of invoices, most of the details will be pre-populated in the return. All you need to do is simply include the additional details (B2C), verify and file return.
Easy tracking of invoices
When using the e-invoicing system, it is easy to monitor where the e-invoice is sent in real-time. You'll know for sure that the invoice will be submitted and received. The status of the invoice, whether approved, denied or pending by the client, can also be seen.
Help MSMEs secure loans faster
Getting loans has always posed a major challenge for MSMEs. To get a loan sanctioned from financial institutions, MSMEs have to furnish a plethora of documents. However, with e-invoicing in place, MSMEs can avail loans, instantly, as banks can rate them on the basis of these invoices.
Reducing fake invoices or duplicate invoices
As per the latest State of Tax Justice report, India is losing over Rs 75,000 crore in tax, due to global tax abuse. The non-digitising of invoices by suppliers has led to an increase in fake/duplicate invoices which ultimately results in tax evasion. Implementation of e-invoice mechanism will help mitigate this tax evasion by keeping a track of fake invoices that are issued, and ensuring a common database is available to tax authorities which will help in driving tax compliance.
e-Invoicing with TallyPrime
TallyPrime makes the process of e-invoicing even easier. TallyPrime is a business accounting software that has the capability of e-invoicing. You can quickly generate e-invoices in bulk without any problems. You can also cancel an e-invoice if you need to. TallyPrime comes with the capability of generating e-way bills with e-invoices as per your requirement. There are times when your Internet connection can experience problems. In such cases, the software tool will ensure you can download the data from the e-invoice in a JSON file and then use another system with an Internet connection to complete the process. This ensures zero loss of data.
FAQ: 
Which businesses will require to generate e-invoices?
All businesses falling in the above criteria will be communicated to register on the e-invoice portal to start e-invoicing mandatorily. Only those businesses who are mandated to generate e-invoices and have registered on the e-invoice portal will be allowed to generate e-invoices.
Once registered, these businesses will have to upload their B2B invoices (Sales, Credit Note and Debit Notes made to businesses, government entities and all types of exports) on e-invoice portal and get it registered before removal of goods from their premises.
This will also facilitate:
Generation of e-way bill along with e-invoice

Auto-population of information in 

GSTR 1

 of taxpayer

Auto-population of information in 

GSTR 2B

 of the receiver
e-Invoice system will have multiple options for the taxpayer, using which e-invoice can be generated:
Directly entered on the Web (IRP portal)

Based on API (Business software communicates with IRP)

Offline Tools like Excel (downloaded on e-invoice portal)
Once the invoice is registered on the e-invoice portal, a digitally signed JSON along with QR Code, IRN (Invoice Registration No.) and e-way bill no. will be generated. Using that customer can prepare an e-invoice.
How is e-invoice different from the current practice of invoicing?
E-invoice is a system in which the invoice needs to be electronically uploaded and authenticated with a unique invoice reference number (IRN) and digitally signed QR code. The change is that the seller needs to print the QR code and IRN number on the invoice before issuing it to the buyer. Businesses using ERP/ business management software that seamlessly connects with the IRP system and automatically prints the QR code and IRN on the invoice will find it easy to manage e-invoice requirements without much changes to the business process.
Watch Video on how to generate e-Invoices instantly using TallyPrime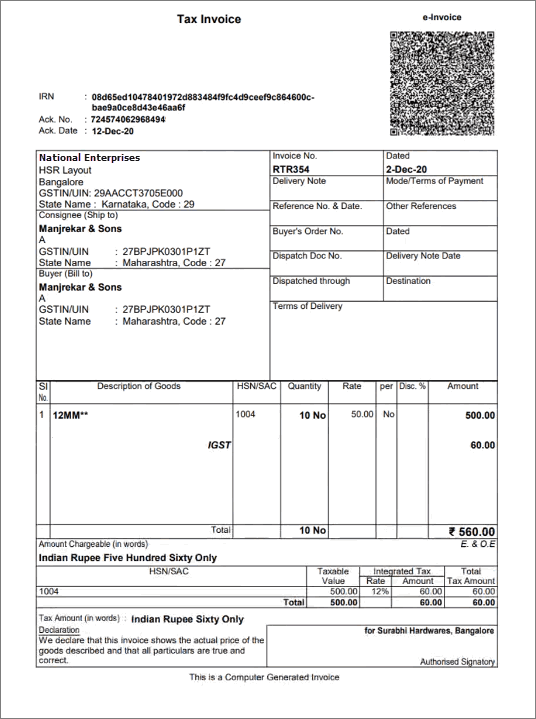 An example of e-invoice generated in TallyPrime.

TallyPrime also comes with an alert feature. If you accidentally modify, delete, or cancel IRN that was generated, then you get an alert for the same. In case it was an accident, you can make the changes accordingly. TallyPrime comes with a reporting feature top. This allows you to understand and know instantly about your transaction status. For example, you get to know about your e-invoice status. You can manually override invoice status and generate or cancel IRN for certain invoices. Want to start again? TallyPrime gives you the option to delete the IRN information and start again with minimal effort. TallyPrime is the best software for e-invoicing.