The concept of e-invoicing mandates businesses to authenticate all B2B invoices with IRN and QR code generated by the invoice registration portal (IRP). Post authentication, invoices need to be printed with QR code which is embedded with IRN before issuing to the buyer. To support the new norm of invoicing, TallyPrime, the all-new powerful business management software is enhanced with e-invoice solution that will help you generate e-invoices instantly in the flow of recording the transaction.
Tally being one of the recognised ISO certified GSP (GST Suvidha Provider), TallyPrime directly integrates with IRP portal to seamlessly generate e-invoices. It's so simple that you will certainly feel that e-invoicing is just the same as invoicing.
While TallyPrime supports the generation of e-invoices instantly with no change to the invoicing process that you always follow, it also supports the bulk generation of e-invoices. Let's understand the situations and how to generate bulk e-invoices in TallyPrime?
Bulk e-invoicing situations
In certain business situations, you may require generating bulk e-invoices instead of generating one by one. For example, some businesses follow the 'Maker' and 'Checker' system of invoicing in which invoices are generated by a "Maker" and later verified by a "Checker". Similarly, you may encounter situations that require you to upload multiple invoices and generate e-invoices in one go.  
With TallyPrime, you can generate bulk e-invoices in one go. To elaborate, using TallyPrime, you can directly send bulk invoices to IRP for generating e-invoices and automatically fetch and print the QR code on the invoices.
Watch: How to Bulk Upload E-invoices in TallyPrime
How to generate bulk e-invoices in TallyPrime?
Generating bulk e-invoices in TallyPrime is so simple that your e-invoices will be ready in a couple of clicks. This comes with complete flexibility for users to send all the pending invoices at a click or simply select only those you want to generate e-invoices.
Let's look at the steps to generate bulk e-invoices in TallyPrime.
From any screen, press Alt + Z or click on 'Exchange' option available in the top menu
Next, select 'Send for e-invoicing'

On selecting 'Send for e-invoicing', all the invoices that are pending for e-invoice generation will be shown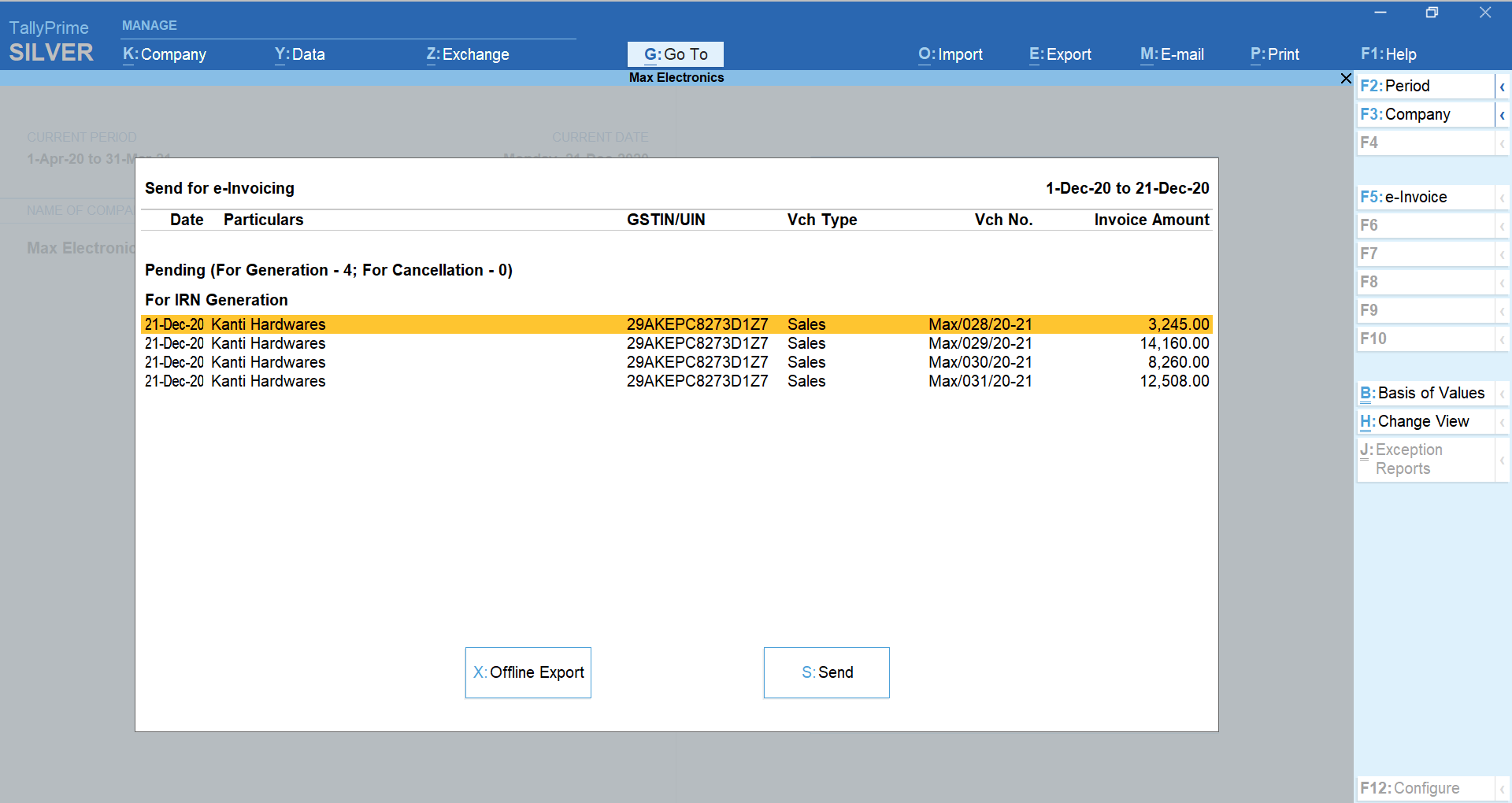 Click on 'Send' to generate e-invoice for all the pending bills or select the one that you want to upload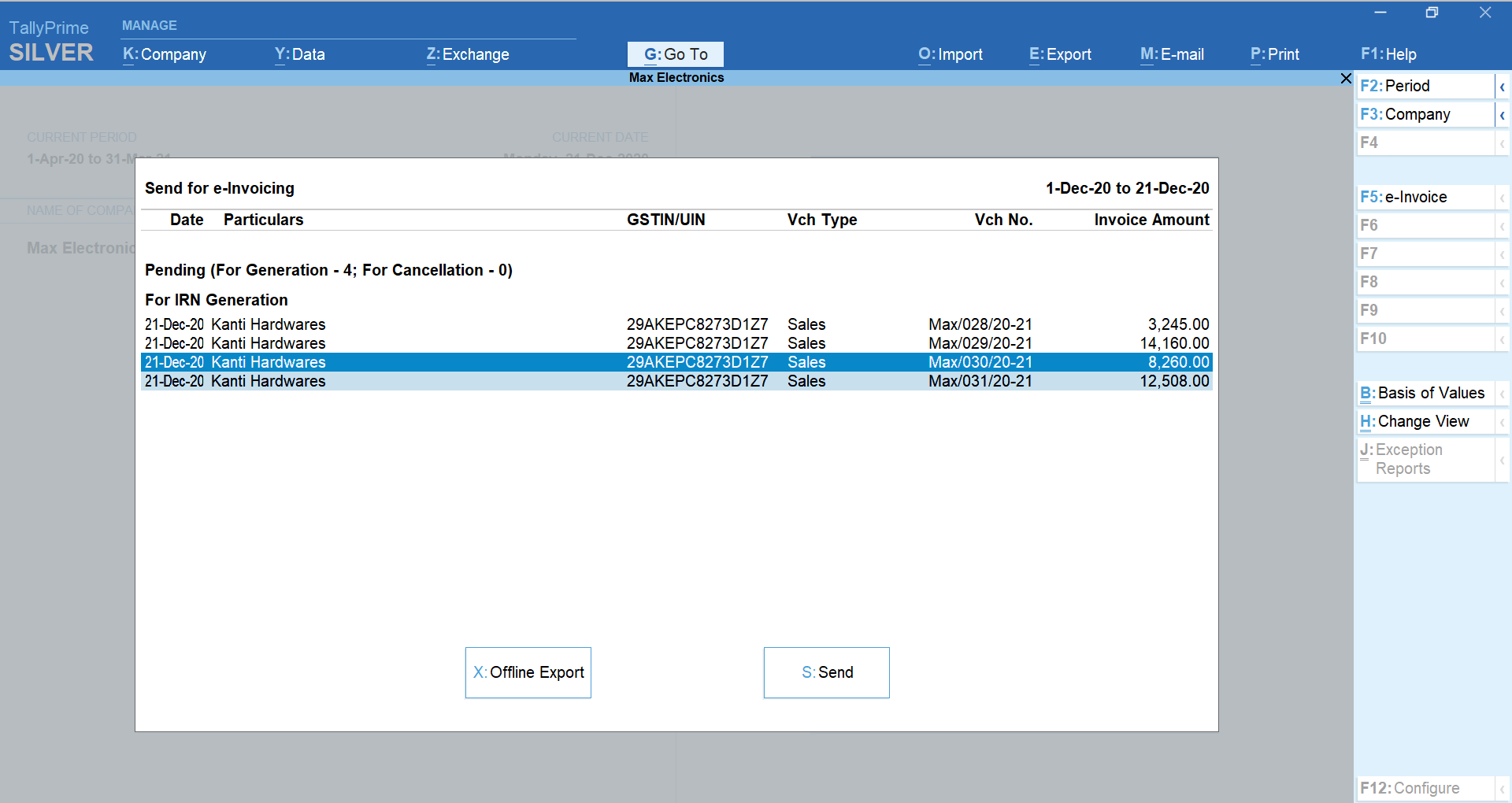 TallyPrime will show you the count of invoices that are being sent for e-invoice generation. Press 'Y' to confirm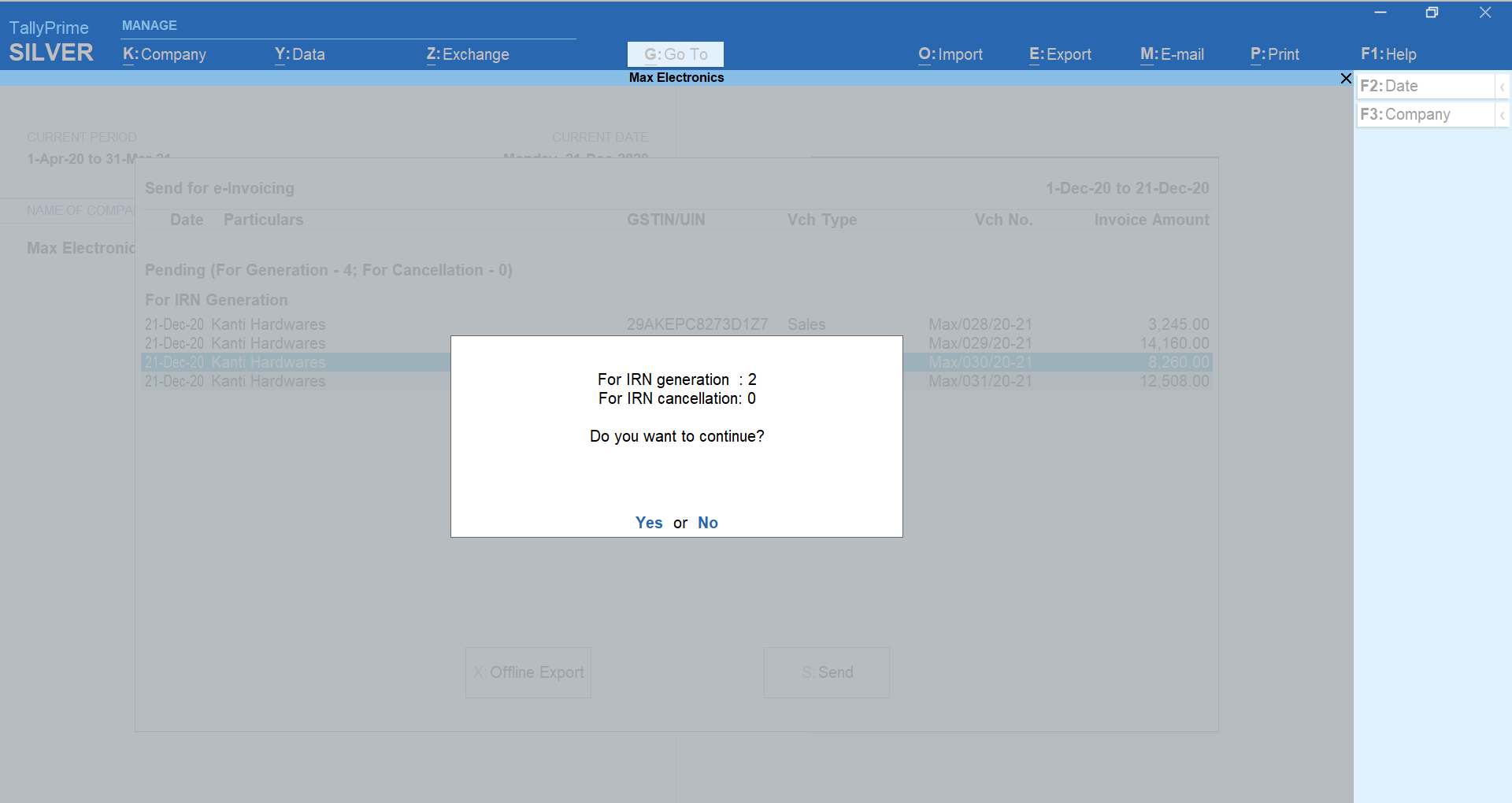 Instantly, TallyPrime will generate the e-invoices and will update the IRN and QR code details in the transactions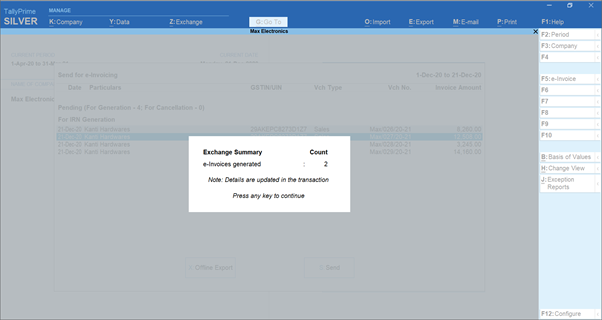 Next, you can print or mail these e-invoices with IRN and QR code.
That's it! Generating e-invoices, be it a single invoice or bulk is amazingly simpler and faster. With TallyPrime, all you need to do is continue your invoicing process like always. TallyPrime will intuitively take care of the rest. Why wait? Take a free trial and experience it yourself.  R
Video guide on e-invoicing in TallyPrime
Know more about e-invoices in GST