Financial statements are prepared with the help of balances that are included in the general ledger accounts. When a double entry system is utilized in bookkeeping, then each transaction must affect two or more general ledger accounts. In the general ledger, the total credit amounts should equal total debit amounts. This is because, for every transaction, the debit and credit amounts must be equal. The trial balance must have account balances whose totals must be equal too. In manual bookkeeping, the general ledger is often referred to as a 'book' where a ledger sheet is assigned to each account.
What Is General Ledger Accounting Software?
Without an accounting software tool, bookkeepers have only one option; to manage business accounts manually. This is a cumbersome, time-consuming, and inefficient process that causes delays, stress, inaccuracies, and inefficiencies which can be misleading to any business. Accounting software is used by accounting experts and bookkeepers to efficiently and correctly process all accounting transactions and effectively managing all business-related accounts. An accounting software solution is a package that is made up of numerous modules or parts. Depending on the type of business, different modules can be of value to a business. The general ledger module is considered a vital module in accounting software.
A general ledger accounting software is one in which the general ledger module is included in the accounting software. This is generally a given but some software solutions do not include it in their offering. Some of the other core modules that are often part of an accounting software solution include purchase orders, accounts receivable, sales orders, bookkeeping, inventory/stock, and accounts payable. Other modules that are often included in an accounting software tool but aren't considered essential include purchase requisition, electronic payment processing, debt collection, and payroll among others.
How Can TallyPrime Help Your Business?
TallyPrime is a powerful business management software solution that can help MSMEs soar.
Indicative of business health
TallyPrime helps analysts, accountants, investors, and other business stakeholders know about the business's health at any point in time accurately. That is because the transaction details in the general ledger are summarized at numerous points so financial reports can be prepared precisely without any errors. These financial statements can help assess business health and help look at how well the business is doing at any point. For example, it can help assess liquidity and profitability among others. According to business health, changes can be made to business processes.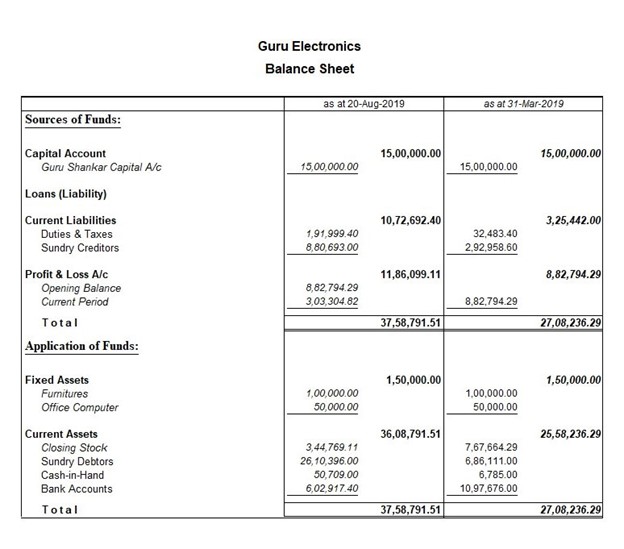 A comprehensive financial report generated by Tally.
Helps with audit preparation
When you don't have a general ledger software solution, preparing for an audit can be a nightmare because the data will be difficult to put together. TallyPrime makes it easy to prepare for an audit because all the financial records are stored in a streamlined fashion in a single location so you can pull out information instantly. You won't need to look for old receipts or papers that you may have accidentally thrown away or misplaced. This robust software solution saves you both the time and effort required to prepare for an audit and makes the process much smoother and faster.
Prevents fraud
Businesses can have hundreds or thousands of transactions every single day. If there is something off even in one transaction then it can be impossible to spot that error without a general ledger software solution in place. TallyPrime allows you to prevent fraud and spot any small issue instantly. This allows errors to be rectified immediately so the financial reports provided are always error-free, credible, and reliable. It comes with TallyVault which gives complete control to define security levels to maximize data security and safety.
Provides instant information
It is a tedious task to look for particular information when required if you don't have general ledger software. Let us say you are a small business that is applying for a loan. When lenders ask for particular financial records to approve your loan, it is much easier to fetch the records from a general ledger software solution rather than look through the books manually. It takes minutes with TallyPrime to get the records you require making it one of the most efficient accounting tools for growing MSMEs. Multitasking with TallyPrime is easy too so you can pull multiple records from various places instantly.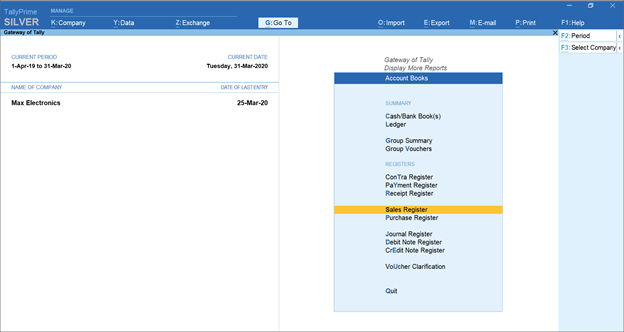 Facilitates budget management
It enables you to manage your budget and make budget allocations as per your business requirement. This can help ensure you are not overspending anywhere, such as on assets, and stay within the budget you planned. In this way, it can be used as an effective budget management tool by MSMEs. TallyPrime makes it easy and fast to create new budgets and edit budgets for cost centers, groups, and ledgers. This feature allows your business to stay ahead and go according to plan while giving the flexibility to make changes when required.
Streamlines data
TallyPrime enables combining data from various entities so it can be stored in a streamlined fashion. For example, sometimes the account structures can be varying and this information can be difficult to store. While storing such information comprehensively using the manual method of bookkeeping is tough, TallyPrime is capable of putting it all together so it makes sense. It supports the addition and proper storage of information from multiple companies, multiple languages, and multiple currencies. This allows for efficient data storage.
Provides up-to-date information
TallyPrime, a general ledger software solution, enables businesses of any size to maintain up-to-date financial data that is easily retrievable. As the software is designed to be precise, it ensures all accounts balance and reports directly to you if any problems are found. As this automatically takes place, you don't need to manually do anything. This makes it faster to retrieve any information you require, whether it is dating a few years back or if it is fairly recent. It also enables big decisions to be made in a snap with all the necessary information in front of the people that matter.
How Can You Get A Ledger Accounting Software Demo Or Free Trial?
It is advisable to schedule a demo or opt for a trial before you choose an accounting software solution. This enables you to determine whether the tool is the right fit for your business's accounting needs. TallyPrime offers a free trial whereby you can freely explore all the software's features. All you need to do is furnish details such as your name, the nature of your business, contact details such as email id, and pin code to get a serial number and activation key. You can then install TallyPrime and use it on your machine. After the trial period is over, you can choose from various flexible plans; available for short-term and long-term use.
Download The Trial Version Of TallyPrime
TallyPrime is an all-rounder as it provides a deep view into your business and enables you to be in control of how you run and manage your business. You can now generate reports as per your specifications so you can deep dive into the aspect that you want to know about the most. This empowers you to make decisions that are based on hard evidence rather than mere guesses and predictions. TallyPrime helps you manage your business even in an unstable environment and ensures you can be on top of the game always. It is the top-most automated financial tool that has changed the course of businesses over the globe.
With TallyPrime, you can enjoy the many benefits of automation. For instance, you can remotely access data when you need it from wherever you wish. Whether it is taxation, inventory management, credit, and cash flow management, or invoicing and accounting, TallyPrime is the prime solution to meet the needs of every business. Automating your accounting tasks with TallyPrime helps increase productivity levels, gives you accurate data sets to work with, provides you with a thorough view of your business, and helps with risk assessment. It provides valuable insights so you can make informed decisions.
Read More