As QuickBooks shuts its operations in India, is your business looking for hassle-free data migration? Migrating from QuickBooks to TallyPrime is the apt choice for your business. 
Trusted by more than 2 million businesses, TallyPrime is a comprehensive business management software that eases your accounting process and simplifies business processes with in-depth reports, accurate accounting, seamless inventory management, and much more. 
Migration from QuickBooks to TallyPrime
TallyPrime's certified, free-of-cost migration tool ensures a smooth and seamless migration from QuickBooks to TallyPrime. Additionally, our certified partners will walk you through each step to ensure a smooth transition.
Are you planning to move/migrate your data from QuickBooks to TallyPrime? How to go about it:
Start by obtaining a valid Tally license. If you don't already have one, click

here

to get your Tally license today!

 

Click on this

link

to enable the migration tool for your serial number  

 

Post installation, open TallyPrime, then select "import"

You'll be prompted to download data for QuickBooks

 

Once you submit this, you will be taken to the sign-up page for your QuickBooks account

 

Now, Tally will download your QuickBooks data automatically

 

A zip file will be saved in your local system after the download is complete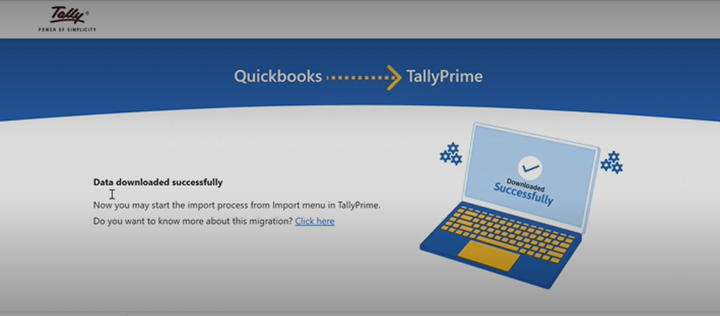 Go to TallyPrime and select "unzip data"

 

Click on the zip file that was saved on your computer

 

Tally will automatically set up a business and import master data and transactions

 

Once done, it will be business as usual, and you can quickly get started with your operations
Added capabilities of TallyPrime migration tool 
The TallyPrime migration tool provides insightful statistics that help you compare the data in QuickBooks, and the data migrated to TallyPrime  

 

The intuitive tool provides businesses with the flexibility to migrate transactions for multiple periods  

 

It comes with an in-built error-log capability that helps in capturing any anomalies in the data
Key Features of TallyPrime
TallyPrime is a powerful business management software that helps you manage accounting, inventory, payroll, banking, compliance, and much more. The intuitive features of TallyPrime easily fit your needs and simplify your business management experience. If you are still deciding on accounting software, then here's why you should migrate your data from QuickBooks to TallyPrime:  
Invoicing and accounting: Easily generate professional-looking invoices and customize them to your business needs with TallyPrime. The software comes with intuitive features like multi-currency support, a flexible order processing system, receivables, and payables management. 
Inventory management: Seamlessly manage, organize, and keep track of your stocks with TallyPrime. Additionally, manage multiple warehouses, and get insightful reports like stock ageing analysis, movement analysis, reorder levels, and more. 
GST compliant: Generate GST-compliant invoices, e-way bills, file accurate GST returns, and much more with TallyPrime. The software's prevention, detection, and correction mechanism guarantee that your books are proper and that the returns you file are always accurate.
TallyPrime on AWS: To ensure seamless connectivity and greater flexibility, Tally has collaborated with AWS, providing a powerful option for businesses to access TallyPrime from anywhere. 
User management and security: TallyPrime's enhanced security measures ensure your data is always safe. It allows you to create multiple security levels, define user-level rights, provide specific access to certain employees, deactivate users, and much more.  
Business Reports: TallyPrime's 400+ insightful business reports allow you to get an overview of your business, thereby helping in enhanced decision-making. In addition, it lets you slice and dice reports to your specifications. 
Access from anywhere: Having access to business data all the time is of utmost importance. With TallyPrime, you can access all your business reports online from anywhere, using any device.  
Payroll management: With TallyPrime, you can efficiently manage employee payroll, process salaries without errors, and do much more.  
Multi-tasking: How frequently has this happened that you are busy generating an invoice; however, you suddenly need to access a different business report? With TallyPrime, you can efficiently multi-task at once and quickly return to your work. 
Bottomline
Data shifting is challenging, but with TallyPrime, you can complete it quickly with a few clicks. We understand that every business is unique and has its requirement, so we would be happy to customize it to meet your needs. All you need to do is contact a Tally Partner or TallyCare support team here.
Read More: