Business reports are extremely crucial when it comes to financial planning. These reports that are also called financial statements, give an overview of the financial health of an organisation. TallyPrime generates over 400 business reports, which aid in better analysis providing crucial insights in one place.
More insights mean better planning, and that's exactly what TallyPrime aims at providing its users. Not only does TallyPrime gives you numerous financial reports, but also gives you great flexibility to customise these reports based on your business requirement. So, with TallyPrime's magical reporting engine, you can discover, analyse, slice and dice and even customise views, at the click of a button.
The primary reports that TallyPrime generates are:
Accounting reports
Inventory reports
Financial reports
Statutory reports
Management control reports
The configuration of reports is so flexible that they can be done on the fly and analysed the way you want to. You can also compare the reports with the previous period, branch, ledger, customer, and many more.
Check out how easy it is to generate insightful financial reports on TallyPrime
How TallyPrime's 'GoTo' feature helps get reports instantly!
TallyPrime's reports have been designed to provide insightful information about your business. They can be viewed in different ways, so that you gain different perspectives about your business' growth. As and when the transactions are recorded, TallyPrime readies the reports, and the insights are right there when you need them.
Our powerful search bar 'Go To' has taken report viewing to the next level by simplifying the discoverability of all financial reports. You can simply go to the search bar and type out the report that you want to view, and it will pop up on the screen like pure magic! Not just that, but 'Go To' inherently support multi-tasking and handling the day-to-day interruptions.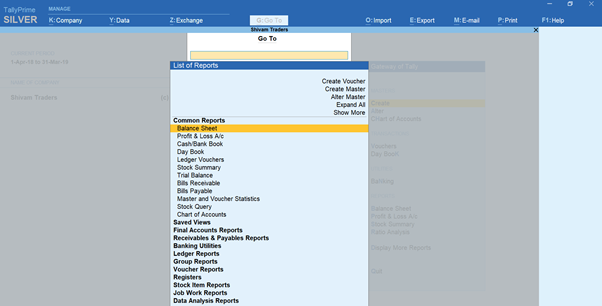 Want to find out more about our 'Go To' capability? Click here!
Analysing business reports on TallyPrime just got easier
Now that you understood how TallyPrime's 'Go To' feature helps business owners discover business reports, without even having to learn the exact names of the reports, let us look at the various options that aid in better analysis of business reports for better decision making.
Personalised view of your report
With TallyPrime's 'Save View' feature, you can create and save multiple views of the same report. The new 'Save view' option makes TallyPrime's reporting even more 'powerful' and 'personalised', by helping you configure certain settings in a report as per your requirement. Once you've saved this view, every time you open the report, you can access it with the same view, without wasting time configuring the settings again. Using this option, you can save the customized view of the report and make it a default view so that you need not to configure it every time.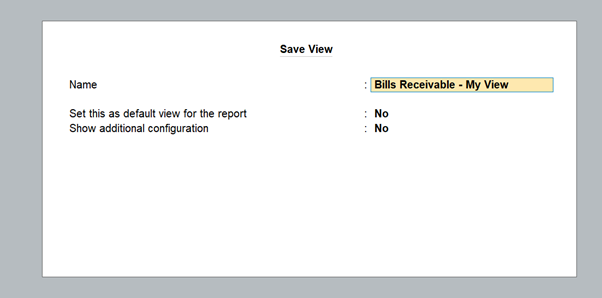 In fact, once you save these settings for a particular report, you can easily and instantly access the customised reports under 'Go To', without having to remember the name with which you saved it.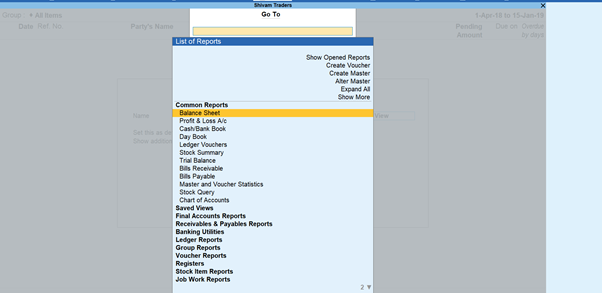 Find out how TallyPrime's 'Save View' feature will help in drawing better insights about your business.
Change view
Wish to modify a view to get a different perspective of a report? Simply press 'Change View' and choose how you would want to view it. In less than a second, the report will look how you want it to. Change view suggests the alternative views of the same report so that you can understand the report better.
Let' say you are in the bills receivable report that shows the party name and pending amount that's due to be paid to you. Now, if you want to view the monthly summary of your bills receivables, just click 'change view' and select the view as 'Monthly Summary'. There you go, the report will now show you the monthly summary of your receivables.  

You can also change the way the information is presented in the report. For example, you can change the balance sheet from a horizontal view to vertical view.

Basis of value
This feature in TallyPrime will let you change parameters that affect the value in reports. No matter which report you are in, you can simply press 'Basis of value' and set the desired parameter in which you want to analyse the report, and TallyPrime will fetch you the data with the entered parameters in less than a second.

Exception reports
Data abnormalities are common in business reports. There could be irregularities due to several reasons. Let's say you are in the stock summary report to know the current stock position of all the inventories you deal with. While you will get to know the closing stock of each item, won't it be great if the report highlights specific data like negative stock items, outstanding orders, etc. that need your attention? Calling out such details is as easy as it could get. Simply click on 'Exception reports' and select the exceptions that you want to see.

Access business reports on-the-go
With TallyPrime's anytime anywhere capability, you can view your reports on any device. TallyPrime brings you the ability to view important business reports from a web browser, on any device, anywhere. You can access important business reports such as Bills Receivable & Payable, Stock Summary, Sales/Purchase Register, Profit & Loss A/C, Balance Sheets and many such reports securely from your web browser. Not just that, you can download an invoice and share with your customers on the go.
Every business and its requirements are unique, and TallyPrime understands that. It comes with amazing flexible options that cater to your needs and allows you to discover more insights from every report you see and run your business better. Install TallyPrime today and get more out of your business reports.
Related Videos:
Meaningful accounting reports
Accurate Inventory Reports
How to View and Analyse Accounting Reports in TallyPrime