Businesses of all sizes suffer immensely as a result of poor inventory management. A study found that more than 75 percent of businesses lose sales as a result of problems in managing their inventory. That is an alarmingly high rate for mistakes that are easily avoidable with the right solution. Poor inventory management leads to overstocking and understocking both of which can be detrimental to a business and its operations. Inventory management is crucial to every business as it impacts the costs and customer satisfaction among other factors. What are the telltale signs that a business is unable to manage its inventory?
6 Symptoms of a poor inventory management
It is important to learn about the mistakes that businesses often make in inventory management to ensure that your business does not fall into the trap of making the same mistakes. Many of these mistakes are easily avoidable. If you feel like you also make these mistakes, then it is time to take a closer look at where you are going wrong and ensure you take steps to improve your current situation. Ignoring the inventory management mistakes has proven very costly for many businesses and it is simply not worth it because your business can even go out of business because of it.
Here are the most common 6 symptoms of poor inventory management.
Lack of real-time reporting


Not paying close attention to reporting is a big problem with many MSMEs. Oftentimes, businesses don't even consider reports to be essential in inventory management. Without reports, businesses operate in a guessing game that can cause overstocking and understocking. With the help of meaningful inventory reports, businesses can ensure they have proper insights on how much stock they should keep. Inventory management software solutions like TallyPrime ensure enough stock is available to avoid understocking and overstocking. It makes it easier for growing businesses to have the right stock without wastage and helps drive down costs.

Not knowing stock ageing


You must track the movement of your inventories and shelf life to ensure you don't incur loss due to stock that remains in your warehouse for too long. If you have excess stock, then you will need more storage space which will lead to higher costs. With stock ageing, you can ensure the correct amount of inventory is maintained at all times so losses are minimal and profitability is high. Stock ageing analysis will give you an idea of the movement of inventories and the ones that are highly profitable and which are not.



Stock ageing report in TallyPrime


Too many storage locations


One of the symptoms of poor inventory management is having way too many storage facilities and not accounting for those storage facilities properly. Oftentimes, businesses assume that manual inventory management will suffice initially because the influx of orders is low. These businesses tend to store more of the same products because they assume they will sell well. This makes inventory management complex. As the products are stored in a variety of containers, more space is occupied even though the same type of product is being stored. A higher number of storage locations doesn't equate to better service. Businesses should focus on product categorization and efficient storage.

Lack of employee training


A mistake that is often made by businesses, both small and medium, is to avoid or spend limited resources in properly training employees for inventory management. Managing inventory is no easy feat and if untrained employees are in charge, then it will lead to inconsistencies and problems down the line. Over time, these small mistakes turn into big issues which lead to disastrous results for the business. To avoid this issue, it is important to internally train employees so they are well-versed about the inventory management software in use.

Inadequate organisation of your storage system


A mistake and one of the common symptoms of poor inventory management is improper inventory organisation. There are ways to properly utilise every inch of a storage facility. Businesses often do not spend time understanding the facility's architecture and how they can maximise the use of space while making it easy for workers to get the products when required. The most in-demand products should be placed where they are easy to reach and find. The not-so-popular products should be placed higher up in the storage facility. Planning storage is vital to ensure proper inventory management that is easy for your business.

Lack of inventory checks


Business owners must realise that yearly inventory checks are redundant because they unveil problems too late. Even if a business keeps aside a few weeks to check inventory and compare it to the system specifics, this is a futile attempt at ensuring inventory is being managed properly. In many cases, businesses rarely perform inventory checks which lead to higher costs and inefficiencies in their supply chain. Stopping operations altogether to perform checks is also ineffective as it does not guarantee proper inventory management. Instead, performing inventory checks more regularly, such as weekly is more beneficial as businesses can catch problems early.



Stock-item-wise profitability analysis in TallyPrime

Distance between warehouses and workstation


The distance between the warehouse and workstation is another inefficiency that is often problematic in many businesses. Some businesses are located in a central location while their warehouses are located in a faraway location. Getting the inventory required at a given time can prove difficult if the distance is too far. This is one of the symptoms of poor inventory management because it can lead to problems in customer satisfaction. Having inventory close to the workstation is recommended when possible or even in close proximity. This will ensure businesses don't have to travel far distances to get the items required whenever they need it.
Eliminate inventory mistakes with TallyPrime
Finding a mistake and then fixing the issue is costlier than not making the mistake in the first place. If you are an MSME, then your inventory management should start with the right software solution. Once you know how much stock is sufficient, you can then move forward and make changes to the way you store and the storage facilities. As a growing business, you also need a business accounting solution that will ensure you are keeping tabs on every financial transaction of your business. You can do this with TallyPrime which has all the major features of a business accounting software and inventory management.
Watch video on inventory reports in TallyPrime
TallyPrime provides automation that allows you to automate various processes such as set reorder quantities so you are aware of when to reorder items before the stocks finish. It allows you to perform easy stock management as you can create categories and groups as you deem fit for your business. It enables you to manage your inventory in various warehouses in real-time thereby providing valuable insights. TallyPrime has a bill of materials feature (BOM) which allows you to store a list of all the items and components required to manufacture a finished product.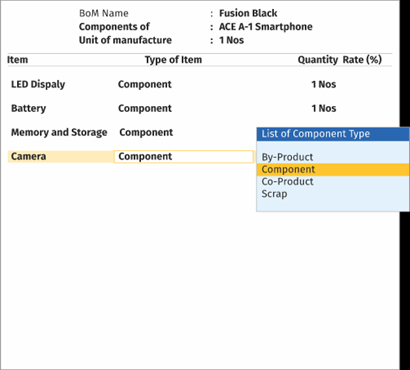 The BOM feature in TallyPrime.
TallyPrime has an excellent reporting feature which provides detailed and thorough information about your inventory. The reports include stock summary, stock ageing analysis, location summary, movement analysis, stock query, stock cost estimation, and physical stock register.  What's more? TallyPrime allows you to compare reports which makes insights even more meaningful for your business. You can view the reports as you wish thereby allowing you to understand and improve the inventory management of your business.
Watch this Video to Know How to Create and use BoM for Manufacturing in TallyPrime
Read more on inventory management

Explore More Products