Businesses these days follow a common practice of sharing a Proforma Invoice before issuing the sales invoice. A proforma invoice allows the buyer to take a look at the deal and understand the terms.
Generally, a proforma invoice includes all the details related to the transaction such as---item description, quantity, rate, payment terms and mode of payment, date of delivery, and so on. Based on this invoice, the buyer can easily make the decision of going forward with the said sale, making any changes to the proposed invoice, or cancelling the deal. This will also allow the seller to take internal decisions accordingly.
How to create a proforma invoice in TallyPrime?
A proforma invoice in TallyPrime is in fact a printout of an optional sales voucher. Once you mark a voucher as Optional, it no longer impacts your books of accounts.
So, how do we generate it?
To create voucher, simply go to Gateway of Tally > Vouchers
Press F8 for Sales Voucher
Enter all the details such as party ledger, stock details, quantity, rate, total amount, date of delivery and so on.
Press ctrl+L to mark it 'Optional' and save

To view the created proforma invoice, press Page Up
Press ctrl+P to print or ctrl+E to export in required format.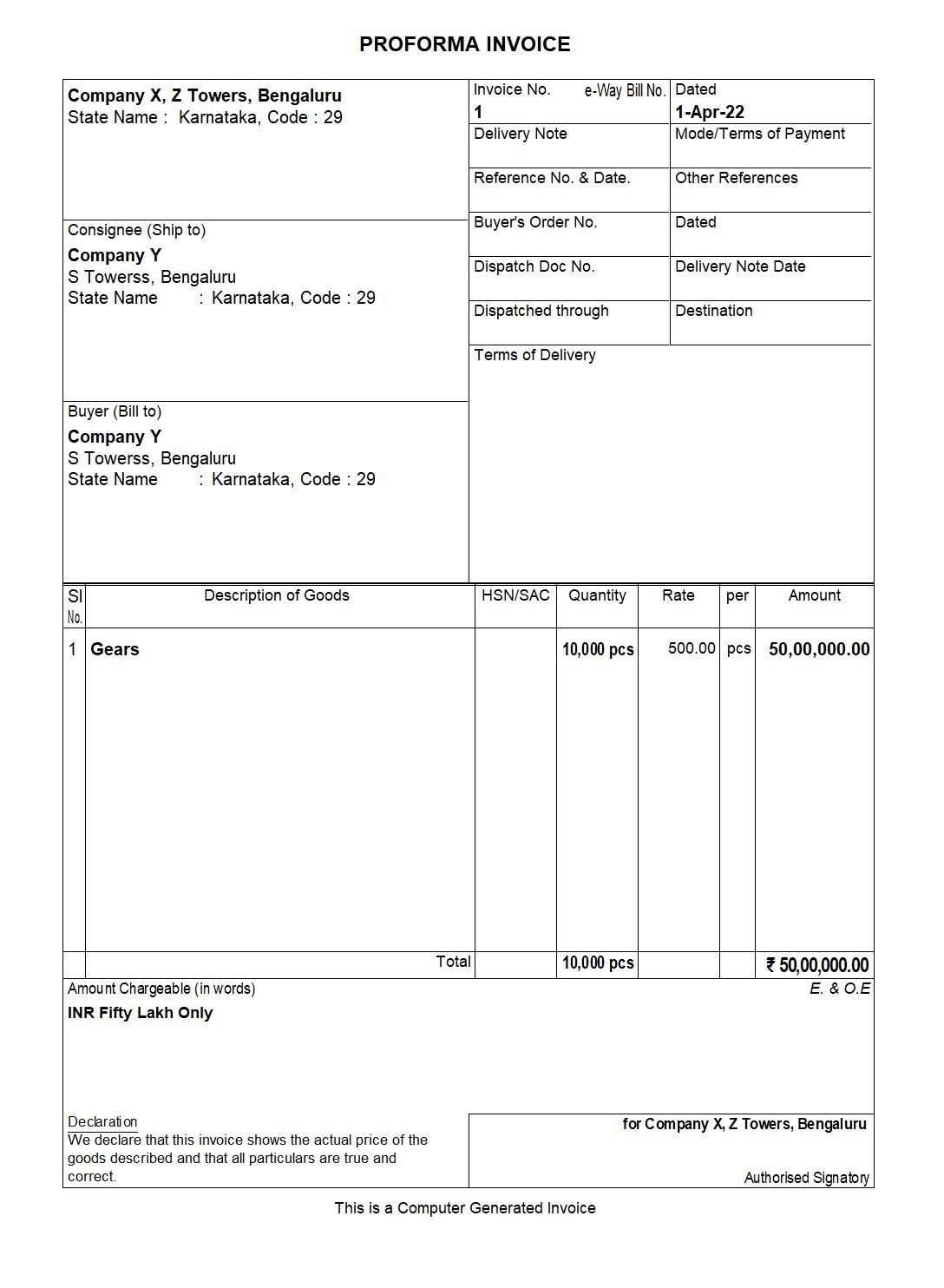 Here is a sample proforma invoice generated through TallyPrime
Difference between proforma invoice and sales invoice
| | | |
| --- | --- | --- |
|   | Sales Invoice | Proforma Invoice |
| Basic Definition | A document that records the actual transaction between the seller and the buyer of goods or services and requests for a payment | A written proposal is sent to negotiate the terms of the transaction, and it contains the details of the future sale such as item, rate, quantity, date of delivery, and so on. |
| Time of Issuing | Issued after the order has been placed, delivered, and fulfilled. | Issued before order placement |
| Purpose to Issue | A legally binding way to inform the buyer about the amount due for the goods/services already provided | A non-legally binding courtesy to help a buyer know what to expect ahead of time, or to make international imports and trade more streamlined |
| General Format | Sales invoices include both party's logos, billing, or shipping addresses, contact information, and other necessary information, along with the terms and conditions, and an official invoice number | Proforma invoices include all the information a normal sales invoice would include, except for an official invoice number. It is clearly labeled as 'Proforma Invoice', and as a best practice specified as not being a GST invoice |
| Accounting Use | A commercial invoice is necessary for paying a bill and is used by your accounts receivables and payables team. | It gives your business an estimated idea of the future cash inflow and the due date for the receivable. This document is not used by the accounting teams but can be used for filing purposes. |
Read more:
Explore More Products