What is a cost management strategy?
A cost management strategy is another term for strategic cost management. It refers to a process of understanding total costs to improve business's strategic position and meet long-term objectives. Based on this understanding, the costs which contribute to an improvement in your business's strategic position are increased while those which weaken the position are decreased. The costs which have zero impact on your business position are also eliminated or reduced during the strategic cost management process. It is important to note that the reason why costs are increased in places that improve your business's strategic position is because they contribute to customer experience.
If you were to cut costs in those areas rather than increasing costs as per your needs, your customer experience will suffer and as a result you will lose out on sales. A cost management strategy is not set in stone and it will change as the objectives of your business change. Constant strategic cost management is required to ensure you are making decisions at the right time to give your business competitive edge over your competitors. An example of cost management strategy is when manufacturing firms launch a new product and they cut costs in areas that do not directly impact the customers.
5 ways to improve your cost management strategy
Cost management strategy can be improved in a variety of ways. Here are some of the best ways your business can improve cost management strategy starting today.
1. Understand your financial structure
Understanding the financial structure of your business is one of the vital cost management strategies. The financial structure of your business is also known as the capital structure. It defines the amount of equity and debt that your business has. It details out how your business is using the finances so that it operates. The financial structure of a business is important to understand because it reveals the value of the business along with the risk. Business owners must analyse their financial structure continually. The financial structure of a business can be analysed with the help of the balance sheet which you can generate with accounting software tools such as TallyPrime.
The financial structure is important because it enables you to understand the availability of funds thereby preventing problems such as under capitalisation and over capitalisation. It is also useful because it enables you to understand profits and how you can increase them. The capital structure of your business allows you to flexibly decrease debt capital as per your requirements as this is needed in certain situations. It can be helpful in cases where the cost of the capital needs to be decreased while the shareholder's capital is increased. All of these form the foundation of a cost management strategy.
2. Proper budgeting
Proper budgeting is one of the cost management strategies that every business can implement. Budgeting is vital because it ensures your business does not fail. Budgeting enables you to anticipate expenses and revenues in a particular time frame. A budget can be created monthly, quarterly, or yearly depending on your business needs. It must be dynamic to ensure it takes into account the changes occurring in the current market and changes that occur in your objectives over time. A budget provides guidance to your business which is why it is vital that you regularly create a budget.
A budget is only useful if you use it. That is, at the end of the budget period, you must compare the stipulated budget and the actual results of your business. The gap will show you where to make proper adjustments and which aspects of your business you are accurate about. A budget helps with strategic planning as you need a lot of insights about your business prior to creating a solid budget. These details allow you to plan for your business accordingly and you are more likely to create budgets that are true to what actually occurs.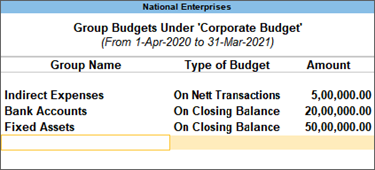 An example of budget creation on TallyPrime.
3. Rethink fixed costs
Fixed costs need to be reduced and this forms one of the core cost management strategies. Fixed costs are static but that doesn't mean you cannot control them and improve your business position. You can employ various techniques to rethink your fixed costs. For example, you can reconsider your employee compensation structure. Laying off employees may not be the best solution but instead tying salary based on a commission can help in many cases such as sales. A salesperson will be motivated to work better and provide results that convert when their salary is tied to commission and earning more with better output.
Another way to reduce fixed costs is by downsizing or rethinking space utilisation in your business. Do you have space that is going to waste in your business? Rent it out to some other business and make some money rather than let the space stay as is. Outsourcing is another option that can enable your business to save on considerable costs. For example, outsourcing those services which are quite expensive when performed in-house can be considered. Looking for ways to save on energy such as switching off equipment when not in use are ways to save money.
4. Lower variable costs
Reducing your variable costs are cost management strategies that you should keep in mind. When business owners think about variable costs, they believe that business growth means an exponential increase in variable costs. Nothing could be further from the truth. Increasing production doesn't have to equate to an increase in variable costs because numerous ways exist whereby you can lower variable costs. For example, you can look for discounts. When you are working with the same vendors, you can order inventory in bulk depending on your requirement and ask for discounts. Vendors are likely to provide discounts when you order a specific amount of inventory regularly.
Some vendors will offer a discount without you having to ask. However, if that isn't the case with you, then it won't strain your relationship if you simply ask. Volume discounts are often available with almost all vendors, especially those who you have worked with for quite some time. Another strategy to lower variable costs is to ensure you only maintain those contracts which are profitable to your business. This requires constant reviewing at least twice a year to ensure you are getting the best rates in the market and reliable service. You must ensure you renew the contract before it expires and shop around regularly to ensure you are getting the best services.
5. Upgrade to reliable software
Taking the time to select a smart accounting software is one of the best cost management strategies. If you are unable to record your transactions and keep track of them then you won't be able to manage your costs. Purchasing an accounting solution will enable you to automate several aspects of your business while also allowing you to keep track of your expenses and revenue. A user-friendly accounting tool like TallyPrime ensures automatic record storage that can be accessed from wherever you want. It also allows for generation of more than 400 reports for complete and thorough understanding of your business.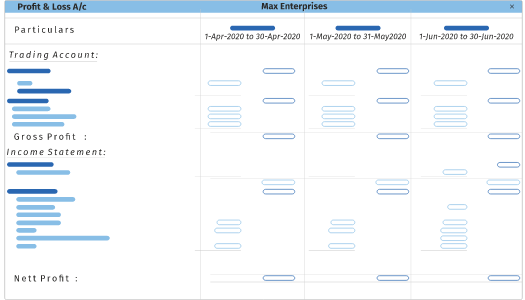 TallyPrime reports are meant to aid in the decision making process.
TallyPrime is a class apart from other accounting solutions because of the wide range of functions it provides. It is a complete business management software that aids in effective monitoring of your business. From setting budgets to tracking inventory, TallyPrime is a software solution that you can trust to make the most important business decisions in a snap. It allows you to pull out minute details of your business so that you can make your cost management strategy according to real business data. You have access to this anywhere. With an intelligent software solution like TallyPrime you get the key to manage your business and allow it to grow as you envisioned.
Use TallyPrime for complete business management
Cost management strategies provide a way to improve where your business stands. You don't want to leave any stone unturned to improve your business by cutting costs where required and increasing expenditure where it counts. With a tool like TallyPrime, you can do that and much more. This accounting software is used by thousands of MSMEs across the globe because of how easy it is to work with and the depth of its functions. For example, TallyPrime comes with cost control and cost analysis functions. It allows you to track variance between budget and actual results and also provides business forecasting that is crucial.
TallyPrime enables you to do much more like manage your taxes and has a bank reconciliation feature that automates the complex process. It has invoicing capabilities that enable you to make compliant invoices in minutes. It comes with cash flow management and credit management features too for higher business efficiency. It comes with security features so that you can set parameters and give user access accordingly to your employees. It also comes with payroll management features to allow for easy salary processing.
Read More: