The rise of digital payments has changed the way businesses operate. Integrating digital payments into business operations has become crucial for companies to remain competitive in today's market. It not only provides convenience to customers but also enhances operational efficiency, reduces the risk of fraud, and lowers costs associated with traditional payment methods. Whether you are a business owner struggling with managing payments or looking for an effective way of collecting and making payments, your search ends here!  
To help SMEs optimize the digital payments opportunity, Tally is excited to present its latest release TallyPrime 3.0 - a new and powerful upgrade that allows you to integrate with payment gateways. The new release seamlessly integrates with key payment gateways – PayU and RazorPay, making it easier for businesses to manage payments efficiently. With TallyPrime 3.0, businesses can streamline their payment processes, improve customer satisfaction, and focus on growing their business. 
TallyPrime's seamless integration with payment gateways
With TallyPrime's latest release, you can now integrate with payment gateways and enjoy the benefits of a single system to generate and manage payment links. In the absence of such integration, businesses had to record entries in TallyPrime and generate payment links from the portal of a payment gateway, which was time-consuming and inefficient.  
By using TallyPrime, businesses can now maintain a single system for recording transactions, payment link generation, and reconciliation. This means that they no longer have to switch between two systems, which saves them time and reduces the risk of errors. The integration of reconciliation in TallyPrime allows businesses to easily match payments received against invoices and track outstanding payments.  
How TallyPrime 3.0 payment gateway integration helps businesses get paid faster?
Add QR Code and Payment on invoices
By integrating with the Payment Gateway, now you can generate and add QR code and payment link on invoices. Either you do it for a single invoice in the flow of recording the invoice or do it in bulk for multiple invoices. This makes it easier for customers to make payments through their mobile devices. This feature not only makes the payment process more convenient for customers but it also helps businesses to receive payments faster and more efficiently. Additionally, this feature provides an added layer of security by eliminating the need for customers to manually enter payment details.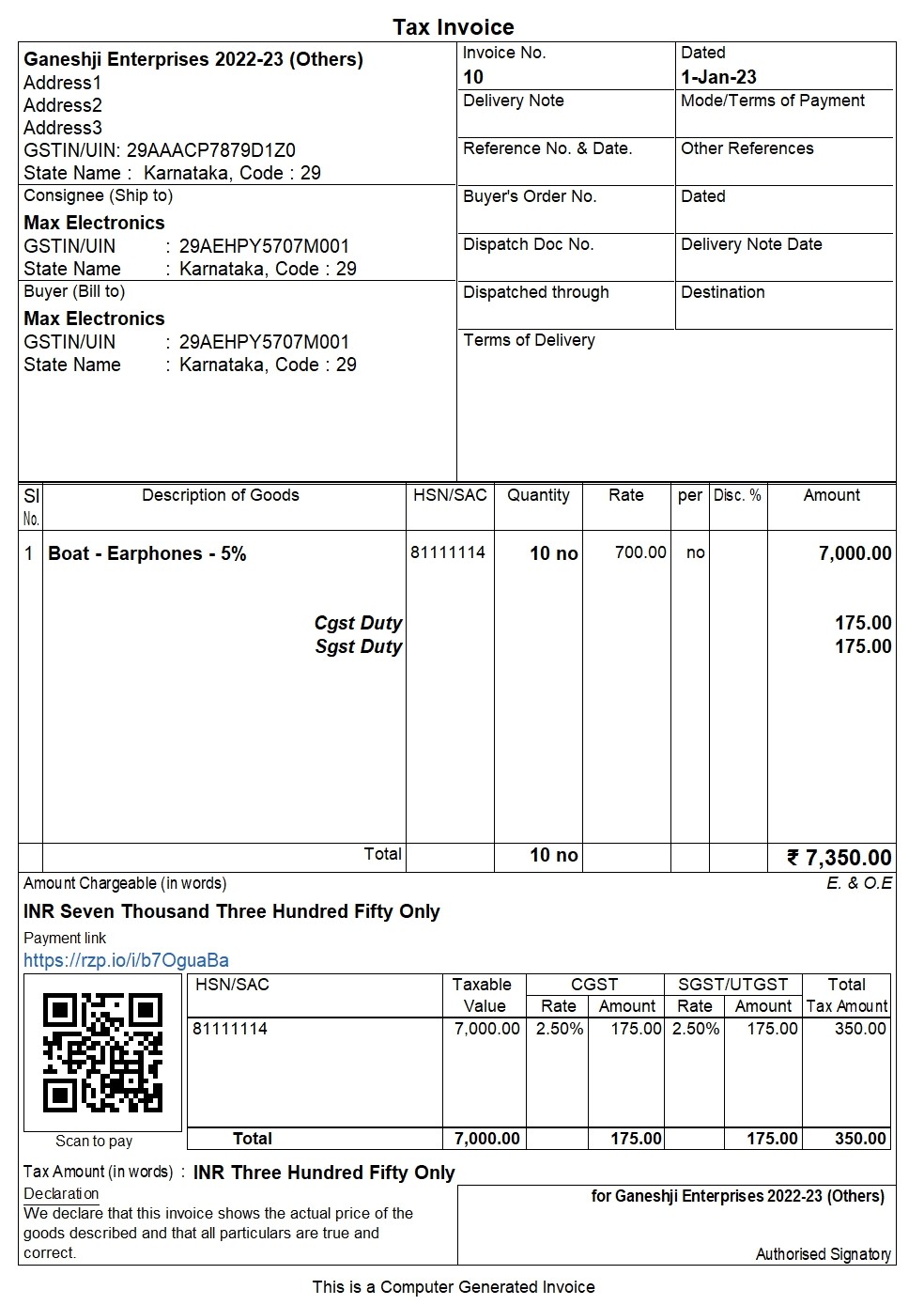 Various options to share payment links and QR codes
TallyPrime provides you with multiple options to share payment links or QR codes with your customers. You can generate payment links and share them with your customers through email or SMS.

Moreover, you can also embed payment collection links or QR codes into an invoice and share it with the customer. This way, customers can easily make payments directly from the invoice without the need to switch to another platform. TallyPrime's flexibility in sharing payment links makes it easy for you to manage transactions and ensures that customers can make payments with ease. 
Improved payment link generation and management
TallyPrime offers a convenient feature that allows you to generate payment links from different accounting reports, including the outstanding report. With this functionality, you can quickly and easily track your receivables and generate payment requests to your customers. This feature can save you time and improve your cash flow management. By analyzing your accounting reports, you can identify your outstanding payments and generate payment links in a few clicks.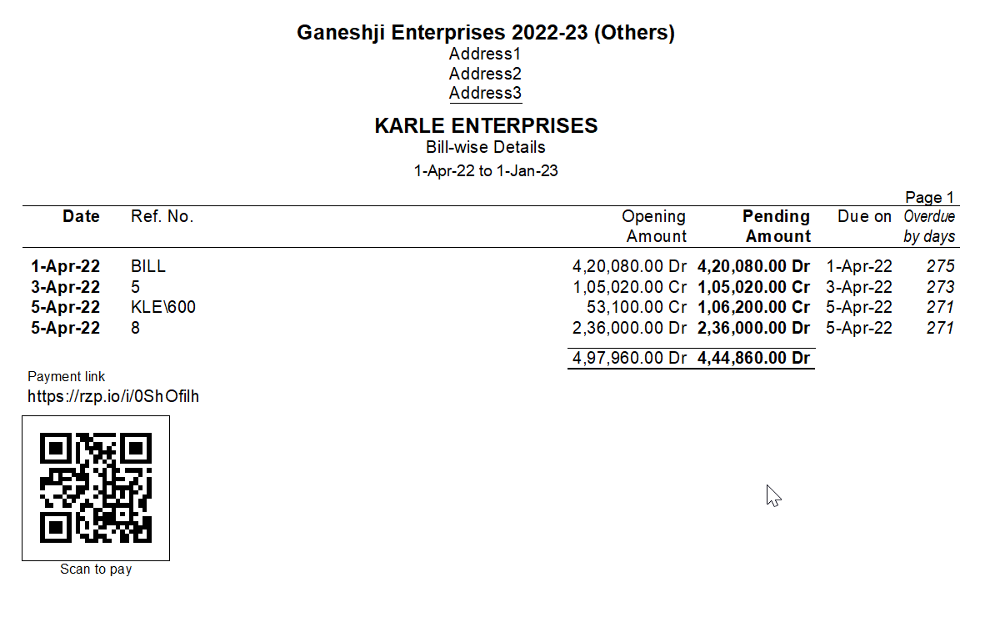 Flexible payment options
With TallyPrime, you can even offer a partial payment option from gateways. What's more? If an invoice has multiple bill references, you can generate payment links for all bill references or specific bills, thus helping you share links for partial payments.



Simplified reconciliation process
With the integration of the payment gateway in TallyPrime, reconciling transactions has become simpler. You can import the transactional data from the payment gateway into TallyPrime and automatically reconcile them against the entries made. If the entries were not recorded earlier, you can create them in TallyPrime using the transactional data. This eliminates the need for manual reconciliation, saving time and minimizing errors. Overall, TallyPrime provides a streamlined process for reconciliation, making it a more efficient and accurate task.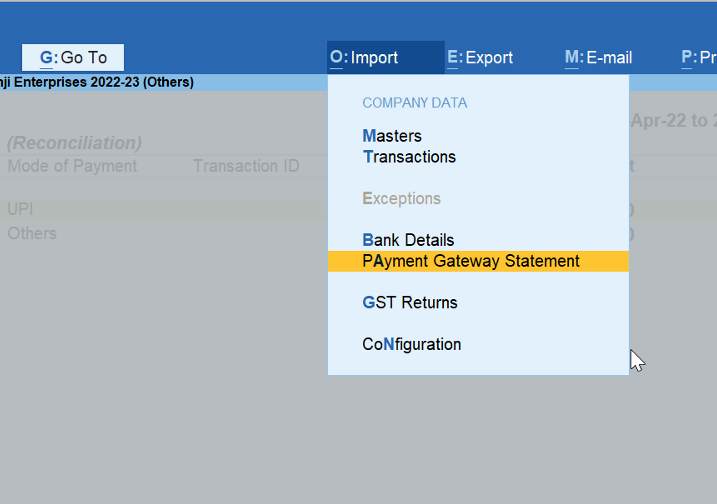 Support for multiple payment gateways in TallyPrime
With TallyPrime, you can streamline your payment operations and easily handle transactions across multiple payment gateways. TallyPrime 3.0 offers the flexibility to manage multiple payment gateways like PayU and Razorpay in a single system. As a merchant, if you work with multiple payment gateways, you can easily select the desired gateway in TallyPrime and generate payment links accordingly. This feature simplifies the process of managing payments and reduces the need to switch between multiple systems.  

Customized access for multiple users
In TallyPrime 3.0, you have the option to maintain multiple users with different access rights according to their role in the business. This feature enables you to assign specific tasks to each user, and you can also control their level of access to the system. You can assign tasks such as generating payment collection links, viewing transactions, and reconciling reports to specific profiles. One of the essential features of TallyPrime is the ability to assign access to generate payment collection links to specific users. This enables you to control who has access to this critical function and ensures that only authorized personnel can generate payment links. 
Bottomline
TallyPrime 3.0 payment gateway integration offers a streamlined process for businesses to receive payments faster. With the ability to integrate transactions, payment link generation, and reconciliation in a single system, TallyPrime 3.0 helps businesses save time and reduce the risk of errors. The upgraded software also provides customized access for multiple users and supports multiple payment gateways, making it easier to manage payments. Overall, TallyPrime's payment integration feature is a game-changer for businesses looking for enhanced efficiency and improved cash flow management. 
Explore More Products