GST revolutionised the way the country does business. GST being a transaction based consumption tax,  it is essential for every business to effectively and accurately compute and record the GST component of their transactions. Effective management of the GST data also makes life easier when it is time to file GST returns. If you find that getting your head around the calculation and filing of GST is just too time consuming, a GST software that is part of a financial and business management software makes work easier. It keeps track of all your financial and GST information in an integrated manner. GST software with financial accounting is a single solution for all your different accounting needs.
What is GST Software?
A GST software is your one-stop-shop for all your compliance needs. From raising invoices to managing your inward and outward supplies, GST software enables you to keep your books of record up-to-date at all times seamlessly. TallyPrime ensures that your GST returns are in sync with your books of accounts, and reflect the same data as used for filing returns in the GST portal, thus proving to be the right GST return software for you. With TallyPrime you can generate GST reports required for filing with a few clicks. TallyPrime also helps you manage the purchase, inventory and sales aspects of your business. It is a complete business management software with state of the art financial accounting features.
What is the importance of taxes in India?
Every country's government depends on taxes to generate money. This money is used to maintain and develop the country. The government can only run, maintain infrastructure and take care of its people through welfare schemes and incentives when it has enough funds. Hence, it is the duty of every citizen to pay their taxes in order to keep the government functioning for their benefit. Filing your GST returns on time and with complete accuracy is essential for compliance and as your duty to your government.
Types of tax - direct taxes & indirect taxes
There are two types of taxes that the government collects; direct and indirect taxes.
Direct taxes
As the name indicates this type of tax is levied directly on the income of people and business entities. It is very important to the government as it makes up a large component of the government's tax revenues. Direct taxes are paid directly by the individual or business to the government. The tax levied is proportional to the income earned by the person or entity.
The lowest income groups are usually exempted from paying tax. This ensures that there is economic and social equality in the collection of taxes from the people.
Indirect taxes
Indirect taxes are the taxes that the citizens pay when they sell or purchase goods or services.
Indirect forms of taxes are not directly imposed on a taxpayer's income, but indirectly when they avail or purchase goods and services. It is an easy way to collect taxes from all the people in the country including those who do not pay direct taxes.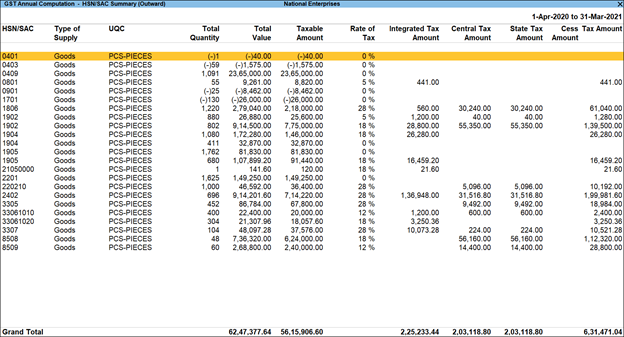 TallyPrime HSN/SAC Summary of Outward Supplies
Role of GST software in businesses
One of the goals of GST as described above is to digitise the process of taxation to make it easier to do business. When taxes can be filed and paid digitally, it makes good sense to also manage all the financial transactions of businesses digitally. When you use an intelligent business management software that computes GST for every applicable transaction, financial accounting for taxes becomes easier. A GST software also makes the extraction of GST reports and invoices easy and ensures compliance. You can very easily generate the relevant reports and file your taxes on time through the year. Filing your GST returns in a digital format is effortless with GST software.
GST Liability, Input Credit, and HSN/SAC Summary In Tally
List of features that you will find in a good GST software
A good GST software should make every step of managing and filing your taxes effortless. Some of the features to look for in a good GST software are:
Seamless integration with a complete business management software: If you use an isolated GST software you may have to reenter a lot of data into your other software. An integrated solution such as TallyPrime manages your GST as well as all the other financial functions of a business for seamless function. GST software that has all the essential accounting features in one package keeps the financial and tax details in sync and up-to-date


Analytics and reporting: You get the best out of data when you are able to analyse it and extract meaningful reports. An excellent software should be able to extract data that helps you make informed business decisions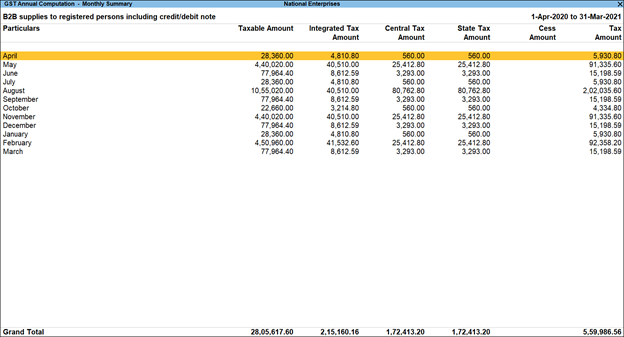 Month-wise Breakup Of GST
Compliance: The GST software should be designed so that your records and calculation of GST for transactions and the reports and invoices generated are fully GST compliant. It should also extract and produce all the necessary reports for the digital filing of GST in real time


Financial management: If your GST software is part of a business management software such as TallyPrime, you will be able to generate taxation reports as well as all the other financial reports that are required in a business. Financial auditing and the generation of reports that are required by authorities and financial organisations should be quick and accurate


Inventory management: Procurement and inventory management are an essential feature of many businesses and companies. The ideal GST software should also be able to manage the procurement of goods and services. Inventory management is also a desirable feature


Sales management: A GST software that also records and helps manage all steps of the sales process is essential to be a complete GST and business management software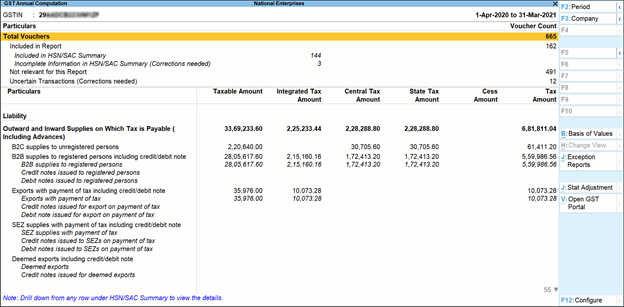 GST Annual Report In TallyPrime
Which is the best GST software in India?
TallyPrime is undoubtedly the best GST software in India because of its extensive features:
Easy to use with intuitive design
Versatile and can be used with simple to more detailed invoices and tax structures
Integrated financial accounting management, payroll, inventory and GST
GST compliant reports and invoices
Exports GST returns data in a format that can be filed
Generates physical as well as digital e-way bills
TallyPrime's GST billing software easily generates advance receipts, reverse charge scenarios, branch transfers, bill of supply, export invoices, input tax credit and other adjustments
Fully compliant with financial accounting best practices and GST structure and other applicable rules and regulations
Complete package for management of all financial transactions in a company
Scaleable and suitable for tiny businesses to multi-location corporations
Allows tax consultants to easily mark and share changes made in returns and update the changes with a single click
So, make your business management digital and enjoy the benefits of accuracy, increased productivity and ease of use with TallyPrime. It gives you a single solution for all your accounting, inventory and sales needs and manages GST seamlessly across all applicable transactions. It keeps your financial accounting and GST details up-to-date in real time. Filing GST details accurately and promptly  is simple and straightforward with TallyPrime.