Having a wide digital presence is one of the most crucial aspects of any business. Whether an MNC or a small business, irrespective of the industry a company is in, digital marketing is one of the major keys which would yield in growth in terms of profits, market presence and increased consumer base. The Indian population has gone digital in huge numbers as per a recent study. A report by Boston Consulting Group (BCG) and Internet and Mobile Association of India (IAMAI) mentioned that during 2009 the internet population was somewhere 60 million reaching around 200million as of 2014, compared to just 7 million internet users in 2001 i.e. the internet population increased 25 times in last 12 years. The internet population estimated to reach half a billion in 2018, making India the second largest population of Internet users in the world. Here is the graphical illustration of this study: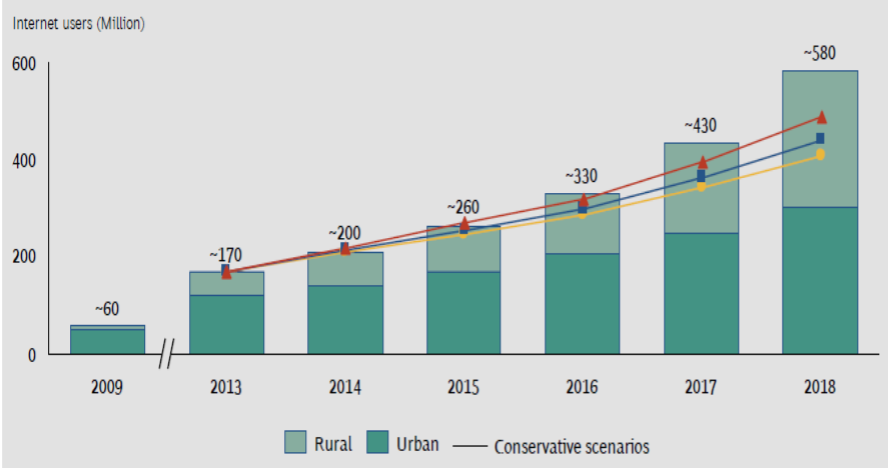 Facts state that today, around 40 million Indians spend around 40-50 hours surfing the internet per month, and India is the second largest market for social networking giants such as Facebook and LinkedIn; 58,000 new users get connected on to a social network every day. In fact, India has 100 million active Facebook users today, the second largest number after the US and Canada with 152 million. Considering this exponential growth of the use of internet in the country, digital marketing must be tapped by MSMEs if they want to compete with bigger players in their respective industries.
To have a strong digital presence, businesses must be out there with every information about themselves. Often after the most-practised advertisement, which is word of mouth, consumers resort to researching about the products/services/company on the internet. So, it's necessary that you make the most of this opportunity and showcase all that you have to your potential consumers.
A few strategies used by big businesses that can also be implemented by MSMEs to be tap into the digital space are:
Have a powerful website:
Creating a website isn't cumbersome anymore with so many internet domain register companies being present across the globe. However, your website must reflect and be in sync with your business so that the visitors can feel an instant connect, thus have a recall value. Explain your business in the clearest and the most concise way possible. Update it regularly with the latest content which will enable you to connect with your consumers regularly.
Optimum use of social media marketing:
Since social media is a primary aspect of the digital marketing space, it is important for businesses to make the most of it to stay at the top of their game. Both B2B and B2C companies must not confine themselves into using just one or two social media platforms. Use of every platform to populate your business and increase footfall on your website is extremely crucial. Since social media is an unpredictable arena, you never know as to which platform might strike gold for your business. It is only through thorough research and trial-and-error can businesses learn about the suitable social media platform for them. After identifying the perfect social media platform, reach out to your customers with a hard-hitting CTA which would leave an indelible mark in their minds.
Keep a close tab on competitors and market leaders
While it is ok to seek inspiration and learn from influencers, you must ensure that while promoting your brand and establishing a digital presence for your business, you need to have your own style. Consumers want to see something new and innovative every day, and only such strategies remain etched in their minds. Thus, by closely observing your competitor's approach, you can design your marketing strategies in a better and a more impactful way, eventually making you a winner.
Go mobile!
Being remotely accessible is very important is this digital age. Thus, your business must also be as "mobile" as possible. While not every business model may require a mobile app but design your website with an interface that is mobile-friendly. You must be ready to approach and grab any customer without any digital hurdles. For retailers, especially, implementing payments through digital wallets and EMIs attracts customers and establishes you as "digitally-abled".
MSMEs have been immensely benefited with digital marketing strategies. Not only did these help them magnify their brand, products and services, but also gave them global recognition. Here's how digital marketing techniques have worked in favour of MSMEs across the globe:
MSMEs have successfully managed to tap into global markets, breaking geographical barriers despite limited access to resources.
Eliminating the necessity for long-term commitments, leading digital campaigns like CPC (Cost per Click) or PPC (Pay Per Click) modes can be utilised immensely to achieve desired results and maximise profits.
Meet subject-matter experts in the markets who will provide relevant market research analysis and updates to boost their marketing and sales strategies.
Flexibility to change their communication and promotion techniques based on the evolving market structure
In a nutshell, adoption of a robust digital marketing plan would make MSMEs boom at a rapid pace, targeting the right consumer base and increase profits just like the business-owners hoped for.