What is inventory management software?
Inventory management software is a software system that helps you to track, control and manage inventories efficiently. By integrating several functions associated with inventories, inventory management software helps you to organize, store, track material movements, consumption, manufacturing, order processing etc.
The key aspect of Inventory management software is to maintain an optimum number of inventories which ensures uninterrupted production, sales, high customer satisfaction, reduced inventory handling cost and so on. In simple words, using inventory management software, you can maintain the right level of inventories at the right time without worry of over/understocking and keep the inventory handling cost at low.
Learn to organise your stock the way you want with TallyPrime:
Top features of inventory management software
Simplified stock management
Organise your stock by product type, brand, colour, size etc. by creating unlimited stock groups and stock categories. This being a small business inventory management software, you can organize the stock the way you want easily.
Warehouse/location management
Store and track your inventory in real-time by warehouse, racks, lot, bin etc. You can create multiple godowns to store raw materials, finished goods, components etc. at different locations such as warehouse, production floor, showrooms etc.
Manufacturing  
Record the complete cycle of manufacturing right from the receipt of raw materials till the dispatch of finished goods including the details of by-product, co-products, and scrap.
Manage inventory batch-wise and lot-wise
You can store and track inventories by lots, batches etc. along with manufacturing and expiry date management. What's more? The powerful inventory reports such as batch summary, batch-wise ageing, etc. help you stay on top of inventories.
Invoicing
You can create a professional-looking invoice in seconds and customise it the way it suits your business. You can print your company logo, add or remove the invoice details using the host of invoice configuration and track the receivables easily.
Bill of materials
Define multiple bill of materials (BoM) with a complete list of components, raw materials, assemblies, co-products, by-products, and scrap etc. along with the quantities required to manufacture a finished product.
Accurate inventory reports
Accurate and actionable inventory reports such as stock ageing, movement analysis, re-order level etc helps you manage optimum inventories always.
Job-Work
Record, track and manage material issues, receipts, consumption in the job work process both as principal manufacture and job worker.
Manage stock from/for third party
Manage and track inventories that have been sent or received from the third party, separately from your regular stock, especially in case of job work, consignment sale and similar situations.
Job/project-wise costing
Complete track of cost and revenue in form of specific order costing for all those manufacturing jobs undertaken according to customer requirements and specification.
Online business reports
Securely access your business data anytime, anywhere using a web browser
Need for an inventory management software in Bangladesh
Easy to manage and track inventories
Increase in productivity
Accuracy in recording and tracking inventories
No worries of understocking and overstocking of inventories
Increased customer satisfaction
Cost optimization at all level of inventories
Get to know the fast-moving and high profitable inventories
Help you get rid of the risk of old and expired stock
Insights from reports help you in on-time business decisions
Reports from an inventory management system
Stock summary - A statement that shows you the details of closing stock along with consumption details
Godown report – A report that shows you the availability of inventories at the different storage locations
Movement analysis report – Tracks and displays the movement of stock for a given period
Stock ageing report – This report keeps track of stock age by classifying it into different ageing intervals
Re-order level – Using this report, you can get to know the shortfall and the ones that require to be replenished
Item-wise profitability report –Using this inventory report, you can get to know the item-wise profitability
Order summary – You can track the orders that are placed, pending, completed etc
Stock transfers – This report shows the details of inventory that transferred across different storage location or godowns
Batch summary (Mfg. and Exp. date) – You can track the batch-wise or lot-wise inventories along with the manufacturing and expiry details.
Get your inventory management software free trial today!
Inventory management software is a must for all businesses that deal with inventories, irrespective of the size of the business. Managing stock & inventory in TallyPrime is as seamless as it could get.
TallyPrime is a flexible inventory management software that helps small and medium businesses to manage the optimum levels of inventories always. It's so flexible that it adapts to the way you work. Not just that! The insightful reports help you manage your business better.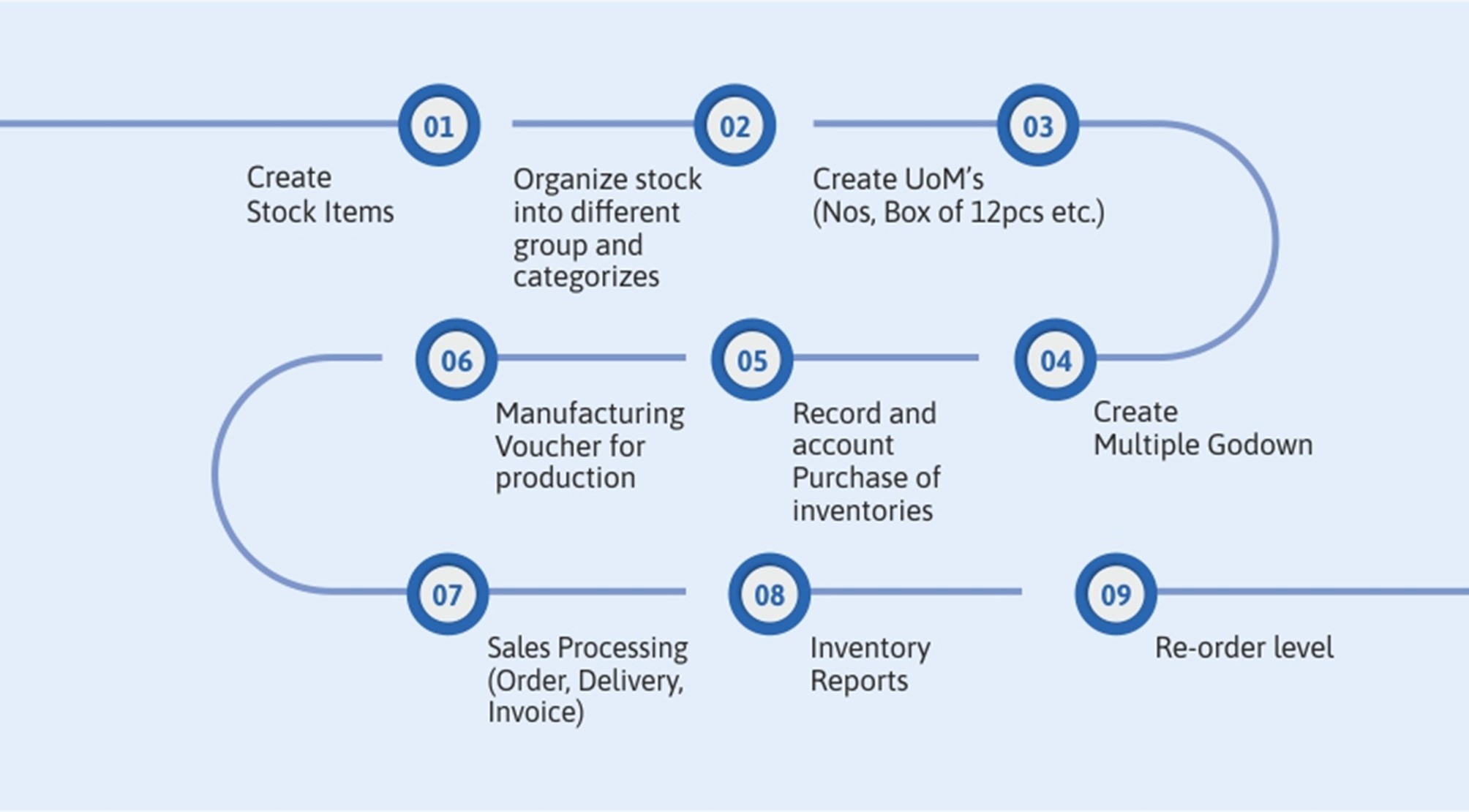 Check out the insightful reports TallyPrime generates for your business
Sign up for a 7-day free trial before you make a decision – we're sure you'll fall in love with the product!