It goes without saying how important reports are for businesses. They provide actionable insights on various aspects of the business and help you make confident business decisions. While there are different types of reports providing specific details of the business, most times, we all fiddle around the reports by changing the parameters, creating different views, add/modify the information and the list goes on. All this for a simple reason to analyse and understand the reports better.
No doubt, it is a great way to look at the reports, but it just doesn't stop here. You may want to make the customized view of the report the default view because you use that frequently and don't want to configure it again.
Furthermore, you may want to create, customize, and save the multiple views of the same reports such that these are readily available when you need them. In case, if multiple users manage the business operation, each user may want to create and save a different view of the same report and access it when they need it.
To put these in simple words, as a business owner/user, you always seek to personalize the business reports the way that best works for you. This is exactly the new option 'Save View' in the latest release of TallyPrime is designed. Let us understand this in a little more detail.
'Save View' option to personalize the business reports
The new 'Save view' option makes TallyPrime's reporting even more 'powerful' and 'personalized', by helping you save the configurations/settings changed in a report once and access it instantly every time, without spending time that goes into configuring it repeatedly. Using this option, you can save the customized view of the report and make it a default view so that you need not to configure it every time.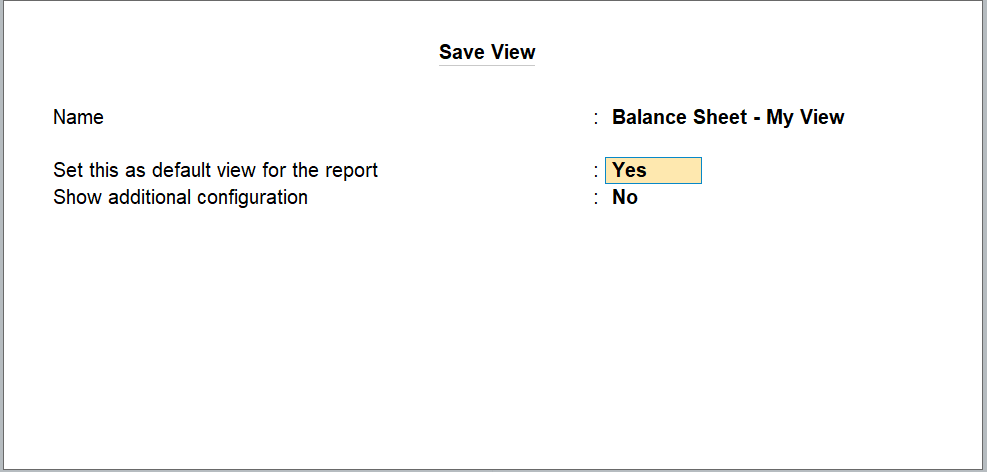 You can create multiple views of the same report, give a name of your choice and save the views. For example, you can create and save 3 different views of stock summary – The first one with details of third-party stock held by you, the second one showing a net stock and the last one with profitability details. You can save all 3 views with different names and access them easily when you need them. This also comes with an option to delete a saved report when you don't need it.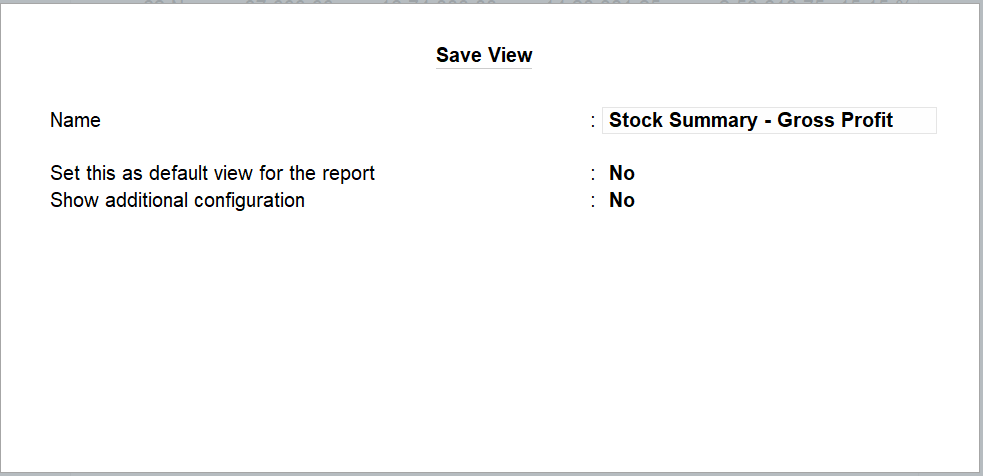 What's more? 'Save View' option comes with a flexibility to either save the custom created view of the report for a specific company only or make it available to all the companies in your system. Let's say if you have multiple companies and you need a same view to be applied for all the companies. You can easily save the custom created views at an application level and views will be shown in all the companies in that system without the need to create them for every company.

Worried about access control to users in case multi-user environment? We have got it covered. The security control is enhanced to put you in complete control in deciding the access to be allowed for users.
With the wide variety of reports in TallyPrime, the addition of the new option 'Save View' makes it much easier to view and understand the reports in a way that best suits you. Get a first-hand experience of TallyPrime's latest release.
Yet to experience TallyPrime? Take a free trial.
Personalise Your Business Reports