In the dynamic business world, growth is a natural objective for every business. As businesses expand, complexities arise. Regardless of your business type, success is intertwined with numbers.
With growth, the need for vital business information intensifies profitable products, fast-moving inventory, warehouse stock aging, cost optimization opportunities, and more.
What is a business management software?
A business management software helps your business unlock the potential of streamlined operations, accurate financial records, reduced overhead expenses and enhanced productivity. TallyPrime is the ultimate growth partner that caters to your present and future business needs, scaling alongside your enterprise.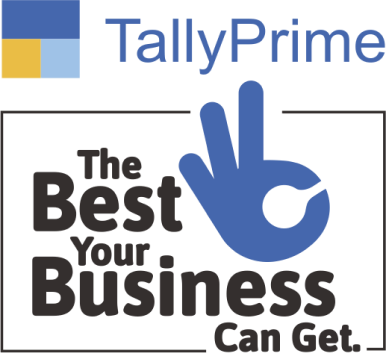 Why settle for good?
When you can get the best?
Primary functions of a business management software include:
Production management: Utilize business management software to plan and optimize manufacturing processes, including capacity, resources, and material allocation, based on past consumption patterns and demand.
Purchasing management: A software that streamlines the procurements process of stock and other supplies
Inventory Management: Key role of a business management system in inventory management is to maintain optimum inventory levels
Sales Management: Increasing the process efficiency by streamlining the order management system right from order-to-Invoice-to-cash
Finance Management: Major role of a business management software in finance management is enabling business owners to generate financial reports in real-time, making available all the financial statements for on-time confident decisions
Enhancing efficiency & saving time
Simplify your business with a unified system: Save costs by managing all business functions through one system, and eliminating the need for multiple software systems, tools, and applications.
Accelerate operations with a single database: Experience enhanced efficiency across multiple functions as users can work faster with a unified database. Boost growth and profitability through optimized performance and streamlined processes.
Accurate reporting
Streamline & save time: Automate business processes to significantly reduce time and effort spent on managing and computing various tasks.
Accurate system-generated reports: Benefit from precise and reliable reports and statements generated by the system, ensuring data accuracy and integrity.
Gain comprehensive business insights: Attain a holistic view of your business and leverage valuable insights to make confident, informed decisions that drive success.
Features of TallyPrime that makes it the best business management software in USA
Discovering problem areas, strategizing solutions, and embracing new avenues for business growth becomes effortless with user-friendly business management software. But what exactly defines simplicity in software? Let's explore some of the key features of TallyPrime that help in minimizing complexity.
Simple navigation from anywhere to everywhere
Adopting a new system for process management often entails a significant learning curve, encompassing installation and setup complexities. Hence, when selecting business management software, prioritize simplicity and user-friendliness. The ideal software should effortlessly enhance your management tasks without adding further complications.
A seamless installation and quick onboarding experience will inspire user engagement. Here's a video showing how simple it is to install TallyPrime.
Embracing simplicity means breaking free from rigid workflows and enabling users to navigate smoothly within the software. Imagine you're in the middle of making a payment entry, but suddenly need to check outstanding bills before proceeding.
The software should seamlessly adapt, allowing you to access the desired report without abandoning your current task. Such flexibility enhances productivity and transforms business management.
Discover business reports easily
Accounting terms may vary in usage, but intuitive software should allow you to effortlessly discover and access critical reports. It shouldn't restrict report generation based on specific keywords only. Instead, the software should understand your unique terminology and classify reports based on both general and personalized terms.
This streamlined access to business reports minimizes the time and effort spent on discovering useful features. You won't need to undergo explicit learning to navigate the software.
By prioritizing adaptability to your workflow, implementing business management software that aligns with your way of working becomes a smart choice for business owners.
Customize your report viewing based on your specific needs
Every business is distinct, with its unique industry, operations, and growth trajectory. Just as business owners have the freedom to choose their path, business management software should empower its users with the ability to customize and adapt to their specific needs.
When generating business reports, valuable insights are gained that are crucial for making informed decisions.
Check out the video below to see how you can view reports based on your preferences in TallyPrime.
As a business owner, the way you want to view your reports is entirely in your hands!
An exceptional business management software should provide you with the freedom to customize the context of your business reports according to your specific needs. You should have the ability to view and analyze reports and draw interpretations in a manner that best suits your preferences.
Check out how simple and seamless it is to generate accurate accounting reports in TallyPrime.
Easily modify the stock summary report in TallyPrime to display ageing details alongside inventory positions. With a simple click, customize the report view according to your preferences, providing a fresh perspective and deeper insights into your business operations.
TallyPrime empowers you to effortlessly explore reports, gaining valuable perspectives that enhance your understanding of your business. Check out the video below.
Easy identification of inaccuracies/discrepancies
Incorporating an automated process to manage your business requirements often results in encountering exceptions when dealing with large volumes of data. Such automated systems must handle these exceptions seamlessly.
For instance, within the stock summary report, certain items may fall below the required quantities, necessitating replenishment, while others may have pending orders awaiting fulfilment. Implementing a functionality that offers easy discoverability of exception reports will effectively highlight data that deviates or contains inaccuracies.
This simple capability not only ensures accuracy for business owners but also minimizes the need for rework.
Sign up for a free demo, now!
Simplify complex problems with intuitive business management software to align your business processes with organizational goals. TallyPrime offers a user-friendly solution that enhances productivity and improves overall efficiency.
By streamlining operations and minimizing training time for stakeholders, TallyPrime ensures a seamless experience, maximizing your investment and boosting productivity. Book a free demo, today!
Frequently asked questions
Do small businesses need business management software?
Small businesses are mostly unstructured. So when data flows from one end to another, there are often chances of inaccuracies and manual errors. With the help of a business management software like TallyPrime, business owners can keep a close watch on their business' progress and plan how to best manage their business.
How to choose the best business management software for your business?
To choose the best business management software for your business, you must keep in mind these features:
Billing or invoicing
Inventory management
Automate accounting process
Generate accurate financial reports
Access business data from anywhere, anytime
What are the benefits of business management software?

Fast and easy filling
Error-free invoicing
Professional invoice that helps you build the business credibility
Multiple billing formats to suit your need
Explore More Products