Useful Solutions from Tally Partners!

Paperless office
Storage and Retrieval of Documents is very important task for any organization. Majority of Documents of the organization has direct link with Accounts/ Inventory functions. In this module the soft copies of documents are supposed to be stored in a pre-defined folder on the Hard Disk. The link between accounting/inventory transaction has been provided . Just by a single click on a Button provided on each screen of Tally software, a List of document linked to the respective Master / Transaction gets opened. The documents created in MS Word, MS Excel, PDF Documents or scanned images can be linked to the transactions entered in Tally

Tally Multi-state GST module
Tally Multi-state GST Module helps to maintain the accounts company located in different states more effectively and accurately, in a single Tally company. It automatically takes the GST rules of the branch and implements it automatically while making the Invoices as well as reports.

Digital Signature
This add-on includes an Auto Signature Module & Stamp which helps you to print digital signature. It prints digital sign on the bottom of invoice/voucher.



Document Attachment
Multiple documents and files can be attached in ledger & all transactions that ensures their easy finding. The attachments can be opened and viewed by the users, linked to the voucher transaction from Reports.

WhatsApp Messaging
Send Any Document from Tally Directly by Using WhatsApp and Save You a Lot of Time by Integration of Tally for WhatsApp.



E-Commerce
A Dynamic Solution to integrate various Marketplaces like Amazon, Flipkart, Snapdeal, Meesho, Udaan ,Paytm or any other e-commerce portal.



Digital Signature
Digital Signature in Tally has been developed taken into consideration new GST invoicing rules where gst compliant business have to sign their sale invoice, credit note, debit note purchase order digitally.

SMS Module
Tally SMS plugin is a unique CRM tool that helps you Stay-in-Touch with your customers, distributors, dealers, resellers, agents, other business associates and even your employees in a very cost effective manner using the powerful medium of SMS communication. With Tally SMS, a low-cost add-on module, your existing Tally erp 9 Accounting and Inventory software also becomes a powerful marketing tool.

E-Commerce Solutions
With this Integration tool, you will be able to create sales invoice, debit notes, credit notes, receipts from the transaction excel file downloaded from Flipkart, Amazon, Snapdeal etc into Tally.ERP 9. The integration tool has been helpful to reduce around 15 man days of work every month Avoid Duplication of Work Reduce Errors & maintain Data Integrity, Save Time & increase Productivity.

Outstanding Reminder
Providing supporting document at the time of audit  to CA or Auditor is a very  time taking task and some time to get particular invoice details we have to work hard . In our day day life we search and  refer manual records to recall some information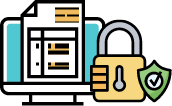 Lock GST Return Voucher
GST Return preparation is primary part of each business.Our GST lock tdl help to lock the masters and vouchers once  gst return is uploaded. With enhance security and workflow it will save your filed return from mismatches.