Fill the form below to start your
7 day free trial
Tally.ERP 9 - Simplifying GST compliance for your business
Generate GST-ready invoices, manage your books of accounts, generate E-way bills, maintain different stock groups and file your GST returns - all using one software.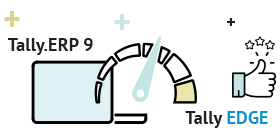 Tally's GST software is a complete product that provides the perfect mix of speed, simplicity, flexibility and reliability. Give your business the Tally edge today!
Tally.ERP 9 Release 6 is packed with rich capabilities
Tally.ERP 9 is the right software choice for GST compliance. The latest release enables you to:
Frequently Asked Questions
How does the Free Trial work?
Free Trial allows you to experience a complete Tally license for 7 days. You will be able to use all the features and functionalities of Tally.ERP 9 Release 6. After you submit the form, we will send you mail to activate the license. The license and supporting data automatically gets downloaded once you submit the form.
For further information on how to use Tally.ERP 9 please click here
How do I activate the Tally.ERP 9 trial license?
Once Tally.ERP 9 Setup Exe is downloaded on your machine, click on Run and install the Exe file. Once installation is complete from the start-up screen click on Activate License, select the option First time activation for your organization and press Enter. Now use Tally serial number and activation key shared through email and activate your license
To know detailed activation steps click here
How do I use demo data?
Copy the demo data folder on your desktop. Now open the folder and copy the path from the demo data folder (For finding the location/path, right click on demo data folder-> Properties and then copy the location)
Open Tally.ERP 9 use ALT+F3 to select the company and paste the path in path space in Tally using CTRL+ATL+V and enter. Post this you will be able to use the demo data.
What happens at the end of the trial?
At the end of trial, your license will automatically move to an education version and you will not be able to use all features of the product. However, do not worry, your data will be safe and accessible from education version.
We will email you before your trial expires. When you are ready to purchase a licensed version, you can buy online by clicking here